Rise and Shine, Double Chocolate Baked Donuts are decadent, moist and a perfect alternative to fried donuts. One donut batter can be dipped into a sugar glaze for a more traditional chocolate cake style donut or a chocolate ganache glaze for extra chocolate goodness.
Waking up to Double Chocolate Baked Donut is a great way to start the day. Donuts are always a special treat in our family and one that we try not to overdue, but I have introduced my kids to baked donuts and I have to say, they definitely check the box for those Saturday morning donut runs. These are light and fluffy, moist, chocolatey and can be dipped in two different glazes to ensure that everyone loves them. A classic sugar glaze makes every bite taste like the real deal donut and chocolate ganache glaze for the ultimate chocolate lover!
What You Need To Make The Best Baked Chocolate Donuts
Making baked donuts is such a fun way to add a special treat into your morning routine. Mixed in two bowls and no electric mixer necessary, this batter is super simple to make and oh so delicious.
All Purpose Flour (a gluten free flour blend can be an alternative for this recipe)
Light Brown Sugar
Cocoa Powder
Baking Soda
Salt
Egg
Sour Cream
Whole Milk
Vegetable Oil
Vanilla Extract
Mini Chocolate Chips
How To Make Double Chocolate Baked Donuts
Prepare the donut pan with melted butter or baking spray
In a medium bowl, combine all the dry ingredients: flour, light brown sugar, cocoa powder, baking soda and salt; set aside
In a small bowl, whisk together the egg, sour cream, milk, vegetable oil and vanilla extract
Add the wet ingredients to the dry ingredients and whisk until all ingredients are incorporated and smooth
Using a spatula, mix the mini chocolate chips into the batter
Using a piping bag, pipe the batter to fill ¾ of the donut pan
Bake the donuts for eight minutes or the cake bounces back at the touch
Remove the donut pan from the oven and allow them to cool for 5 minutes in the pan and then remove them and place them on a cooling rack
Once the donuts are cooled, dip the top of the donut in the chocolate ganache glaze and sprinkle with chocolate sprinkles or dunk the entire donut in the sugar glaze
Place the glazed donuts on the cooling rack and allow them to dry for 5-10 minutes
One Donut Two Glazes
One donut two glazes, does it get better than that? Double chocolate baked donuts is a versatile donut base that can change into so many personalities with a different topping.
Sugar Glaze makes for a classic glazed donut, made with powdered sugar, milk and vanilla extract and dries to be the perfect coating.
Chocolate Ganache Glaze is for chocolate lovers! Semi sweet chocolate chips mixed into simmered heavy cream and whisked together to a smooth, creamy and glossy glaze.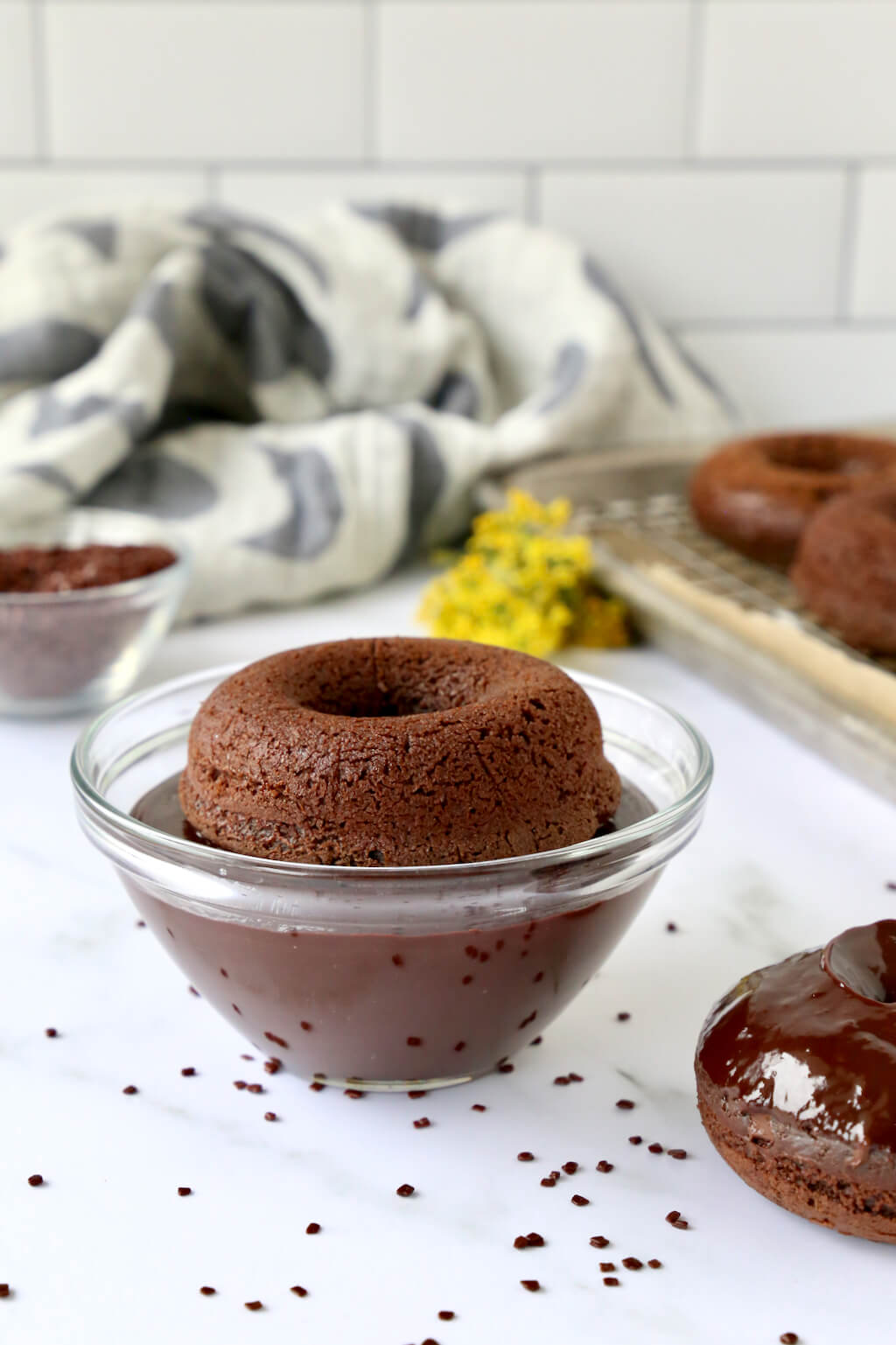 Shop Products Needed To Bake Donuts

Tips and FAQs To Make Decadent Baked Donuts
Make sure the donut pan is greased and if you make two batches, grease in between
Fill the donut pan ¾ full to create the perfect rounded donuts
Make sure that the donuts are cooled before dipping in sugar glaze or chocolate ganache glaze
Gluten Free Flour can be substituted for regular all purpose flour to make these GF Chocolate Donuts
Baked Donuts make the perfect breakfast treat or a delicious dessert with a scoop of ice cream
Store the donuts in an airtight container if you have any leftover
More Breakfast Bites
Cinnamon Sugar Baked Donuts
Sour Cream Coffee Cake
Classic Banana Bread
Buttermilk Apple Spice Muffins
Print
Double Chocolate Baked Donuts
Author: kristen massad
Prep Time:

10 minutes

Cook Time:

8 minutes

Total Time:

18 minutes

Yield:

8

donuts

1

x
Category:

Donuts

Cuisine:

Breakfast
Chocolate Donut Batter 
1 Cup All Purpose Flour
½ Cup Light Brown Sugar
¼ Cup Cocoa Powder
½ Teaspoon Baking Soda
¼ Teaspoon Salt
1 Egg
⅓ Cup Sour Cream
¼ Cup Whole Milk
¼ Cup Vegetable Oil
1 Teaspoon Vanilla Extract
¼ Cup Mini Chocolate Chips
Chocolate Ganache Glaze
1 Cup Semi Sweet Chocolate Chips
½ Cup Heavy Cream
Sugar Glaze 
1 ½ Cup Powdered Sugar
¼ Cup Whole Milk
1 Teaspoon Vanilla Extract
Instructions
Chocolate Donut Batter 
Preheat oven to 350 degrees F and grease a donut pan; set aside
In a medium bowl, combine all the dry ingredients: flour, light brown sugar, cocoa powder, baking soda and salt; set aside
In a small bowl, whisk together the egg, sour cream, milk, vegetable oil and vanilla extract
Add the wet ingredients to the dry ingredients and whisk until all ingredients are incorporated and smooth
Using a spatula, mix the mini chocolate chips into the batter
Using a piping bag, pipe the batter to fill ¾ of the donut pan
Bake the donuts for 8 minutes or the cake bounces back at the touch
Remove the donut pan from the oven and allow them to cool for 5 minutes in the pan and then remove them and place them on a cooling rack
Once the donuts are cooled, dip the top of the donut in the chocolate ganache glaze and sprinkle with chocolate sprinkles or dunk the entire donut in the sugar glaze
Place the glazed donuts on the cooling rack and allow them to dry for 5-10 minutes
Chocolate Ganache Glaze
In a small sauce pan, bring the heavy cream to a simmer
Remove the pan from the heat and add in the chocolate chips
Whisk the chocolate ganache until smooth and creamy
Dip the top of the donut while the ganache is still warm or rewarm it if it starts to thicken to much
Sugar Glaze
In a small bowl combine the powdered sugar, milk and vanilla extract
Whisk together all ingredients until smooth
Dip the donut into the sugar glaze and coat the top and bottom completely
Keywords: Double Chocolate Baked Donuts