Keeping halloween sweet instead of scary with the most cheerful Halloween Chocolate Shortbread Cookies.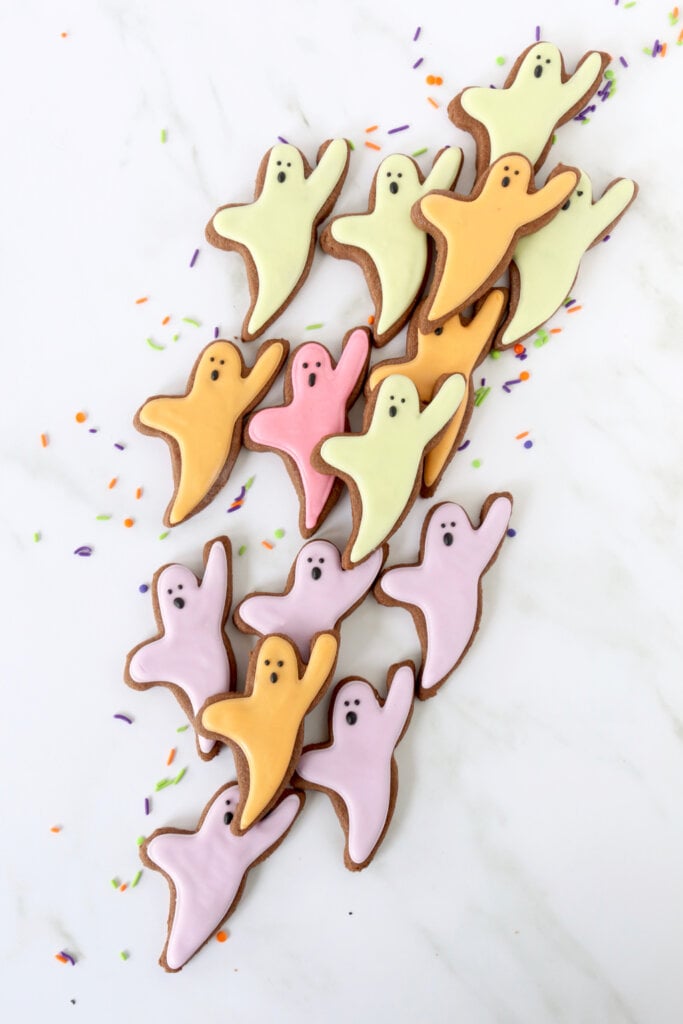 Celebrating October 1st with the sweetest and not so scary Ghost Chocolate Shortbread Cookies!
Chocolate Shortbread Dough is so buttery, not overly sweet and has the perfect amount of chocolate flavor. I love everything about this recipe and the variety of things that can be made with it. Chocolate Shortbread makes the most adorable iced cookies that can be cut into any shape and size, decorated with royal icing and served to kids or adults. This dough can also be used for a chocolate pie dough or mini tea cookies!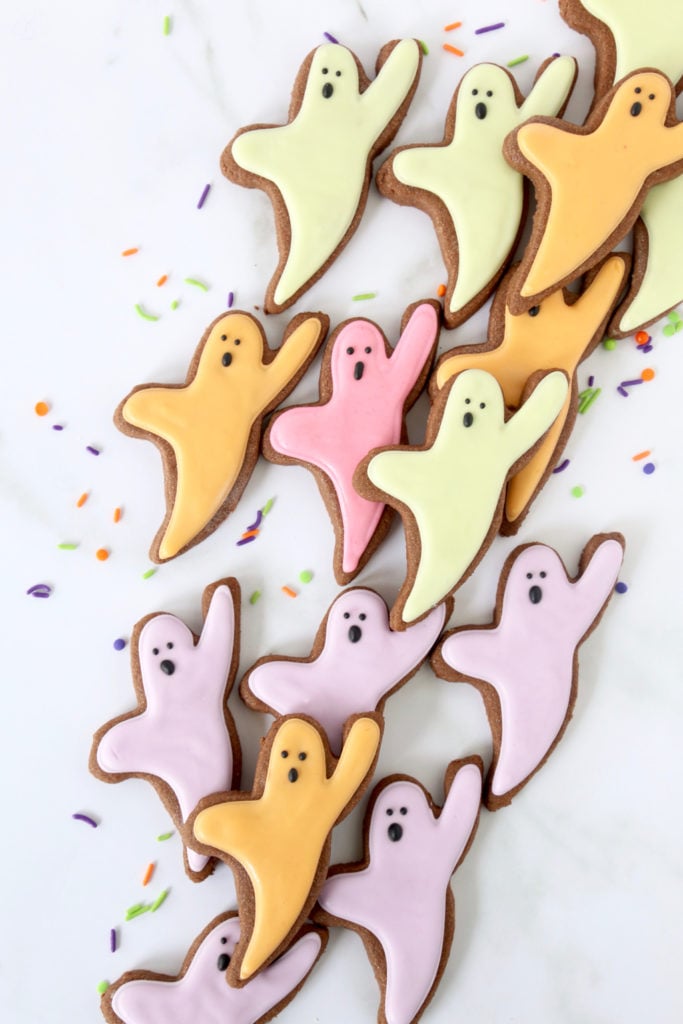 Royal Icing is a combination of pasteurized egg whites and powdered sugar that creates a perfectly smooth glaze for the Chocolate Shortbread Cookies. These pastel and cheerful ghost cookies are finished with light lime green, lilac, light orange and soft pink royal icing. Royal Icing dries to have a hard surface to the touch but still soft and decadent when you bite into them. This allows the cookies to be packaged for a perfect halloween treat!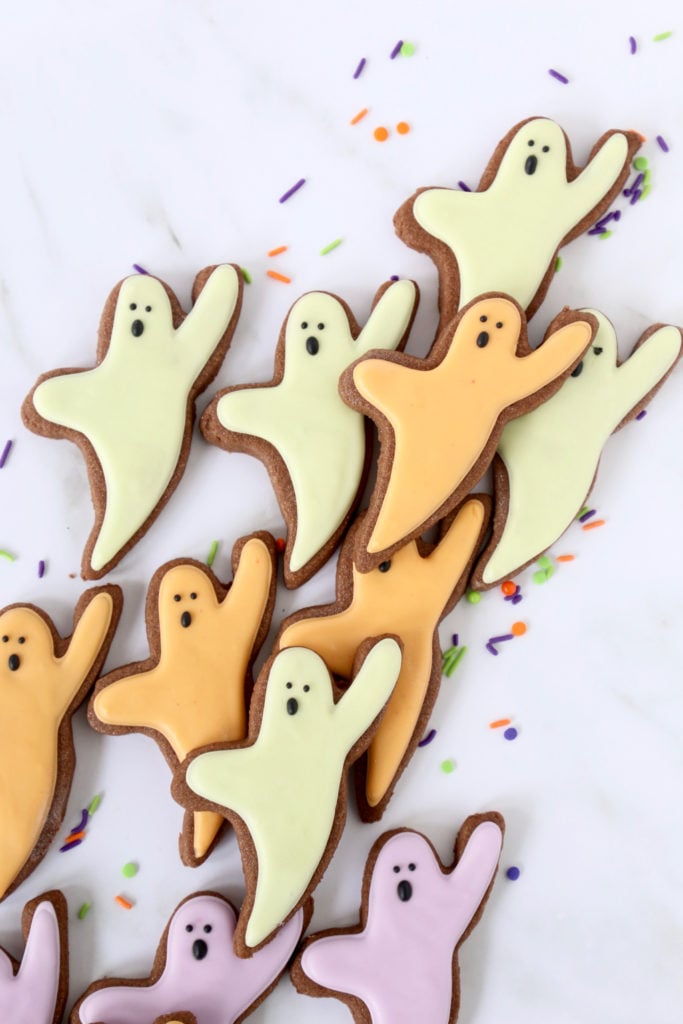 Print
Halloween Chocolate Shortbread Cookies
Chocolate Shortbread Cookie

1 Cup

Granulated Sugar

2 Cups

Unsalted Butter

1

Egg

1

Vanilla Bean or

1 tsp

Vanilla Bean Paste

3 ½ Cups

All Purpose Flour

½ Cup

Cocoa Powder
Royal Icing

6 Cups

Powdered Sugar

3

Eggs Whites, Pasteurized (add more or less eggs to adjust consistency)

½ tsp

Vanilla Extract
Instructions
Shortbread Cookies
Preheat oven to 350 degrees F and prepare sheet pans with parchment paper
Cream sugar and butter in a mixing bowl with a paddle attachment
Add eggs and vanilla bean; mix on low speed until egg is fully incorporated
Slowly add in the flour and mix until dough comes together into a ball
Place dough on a floured surface and gently knead until smooth
Wrap dough in plastic wrap and refrigerate for 30 minutes
Once the dough is chilled, roll out into ⅛" thick and cut into desired shape
Bake cookies at 350 degrees for 14-18 minutes
Allow the cookies to cool before glazing and decorating
Royal Icing
Combine powdered sugar, egg whites and vanilla in a mixing bowl with paddle attachment and mix on medium speed for 5 minutes or until icing is smooth
Divide the icing into 4 bowls
Mix one bowl with light lime green food coloring
Mix one bowl with light lilac food coloring
Mix one bowl with light orange food coloring
Mix one bowl with soft pink food coloring
Using the base color, fill a pastry bag and pipe the icing around the perimeter of the cookie; allow this outline to dry for a few minutes
Using the same color as the outline, pipe the royal icing to cover the top of the cookie
Allow the icing to dry for 10 minutes
Add a small amount of icing to a bowl and add a few drops of black food color
Fill a pastry bag with the black royal icing and pipe two eyes and a ghost like mouth
Allow the cookies to dry before serving or dry overnight to place in cellophane bags and use as party favors!