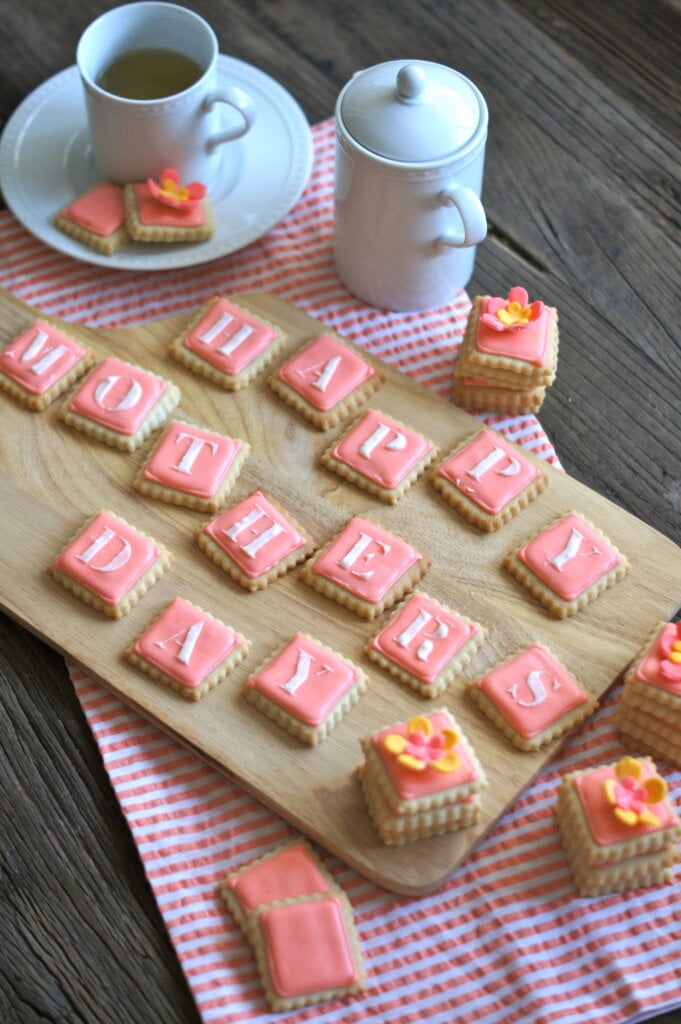 Let's spoil all the ladies in our lives with some love and sweets this month. The best way to celebrate is to be with family and friends enjoying a wonderful meal, sitting around the table, and sharing love for one another. As you plan your menu for a simple brunch, lunch or a spring-filled dinner, add these glazed shortbread cookies to share with your special mom. What I love about these cookies is the combination of a buttery, flaky texture and creamy, soft icing for the perfect decoration.
Glazed Shortbread Cookies
1 cup

sugar

2 cups

unsalted butter

1

egg

1 teaspoon

vanilla extract

4 cups

all-purpose flour
Zest of

1

lemon (optional)
Instructions
Cream sugar and butter in mixing bowl with paddle attachment
Add eggs, vanilla extract and lemon zest, and mix on low speed
Slowly add the flour and mix until the dough has come together
Place the ball of dough in plastic wrap and refrigerate for 30 minutes
Once dough is chilled, roll it out to ⅛ inch thick and cut into 2-inch squares or other desired shape
Bake cookies at 350 F for 12-15 minutes or until light golden on the edges
Allow cookies to cool completely before glazing and decorating.
Notes
Royal Icing
6 cups powdered sugar
3 egg whites
½ teaspoon vanilla extract
Make royal icing by combining powdered sugar and egg whites in mixer on medium speed for 5 minutes
Icing will become very smooth and glossy. (Add more powdered sugar if you want it to be thicker and cover icing if not using immediately, or it will get hard)
Draw a border around each cookie with royal icing
Once the border is dry, cover the entire cookie with icing
Allow the base icing to dry completely, and then stencil or draw letters onto the cookies
Allow cookies to dry before serving or packaging
*Note: If you do not want to make a traditional royal icing with egg whites, you can replace the egg whites with meringue powder (follow directions on the container)
This recipe is also featured in the Advocate Magazine...Check it out
here
!