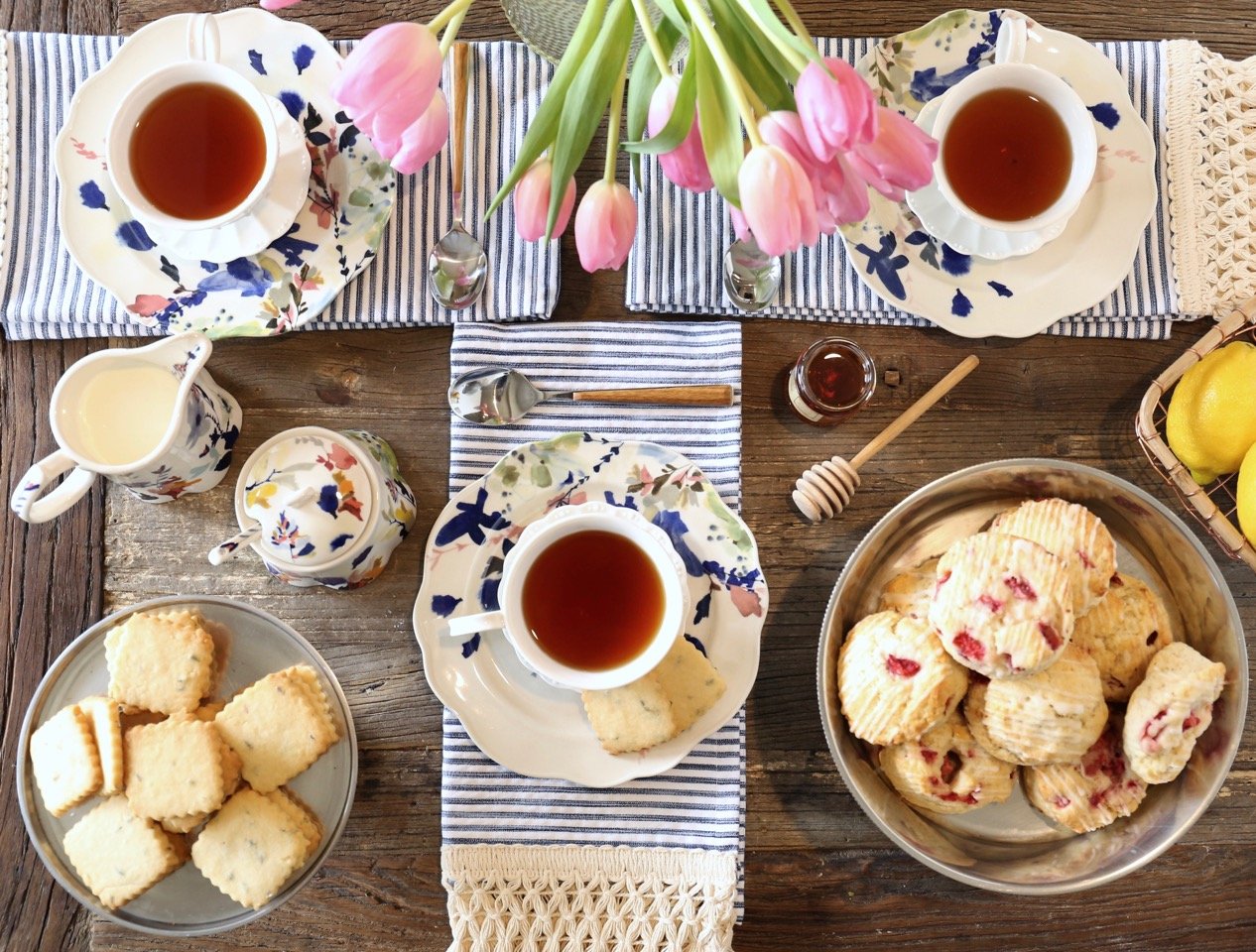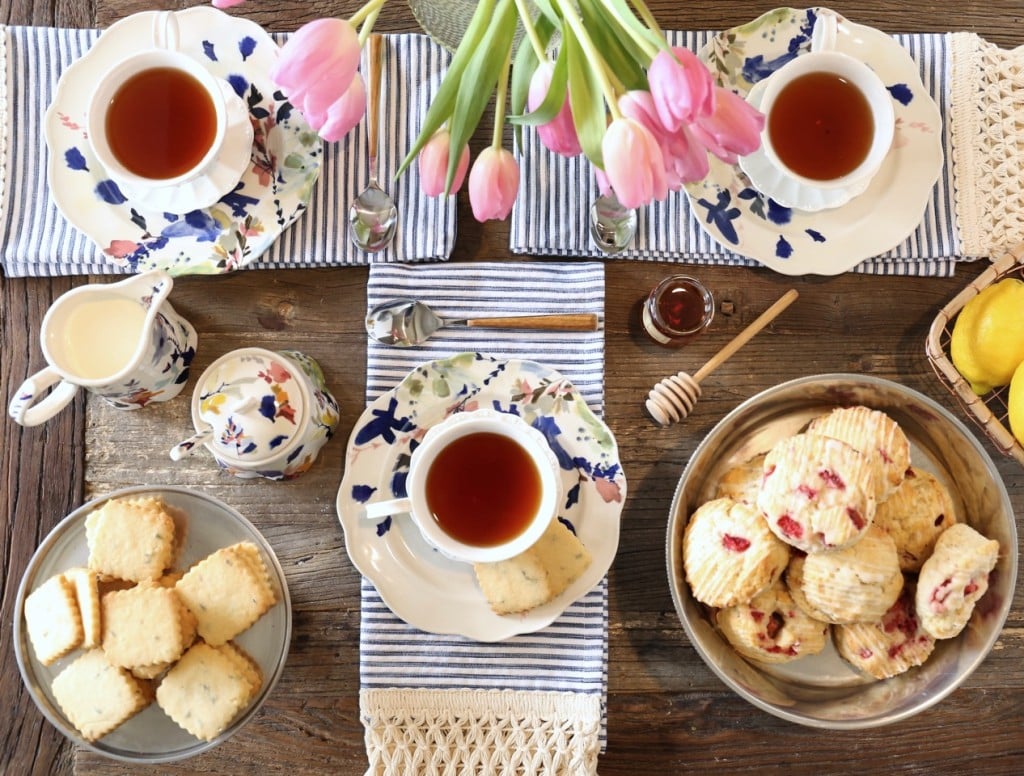 Its spring time, the flowers are blooming and it is the most wonderful time to be outside and entertaining. A tea party is low maintenance a but classy ways to gather for friendship, baby and wedding showers and even little girl birthday parties.
High tea is most common in the UK and is offered in very famous hotels with show stopping decor and over the top pastries, cookies and finger food. It might seem overwhelming to plan, but hosting a tea party can be as simple or detailed as you would like. Tables are covered in linens, your favorite china and topped with tiered stands filled with everything from scones and tea cookies to savory fair; tea sandwiches, dainty salads and quiche. Everything is finger food and the perfect bite to show off your inner lady.
Once you have picked out the decor and style of your party, start planning your menu. Strawberry lemon scones are one of my favorite items to put on the menu. These tender pastries adorned with fresh strawberries and a tangy lemon glaze are perfect to enjoy on its own, topped with a smear of butter and jelly or filled with fresh whipped cream and strawberries for a satisfying strawberry shortcake. Next on my menu is always a classic tea cookie. Petite, buttery and not to sweet, tea cookies will pair perfectly next to your tea cup and saucer. Changing the flavor of these is super simple and will add a special touch to your event.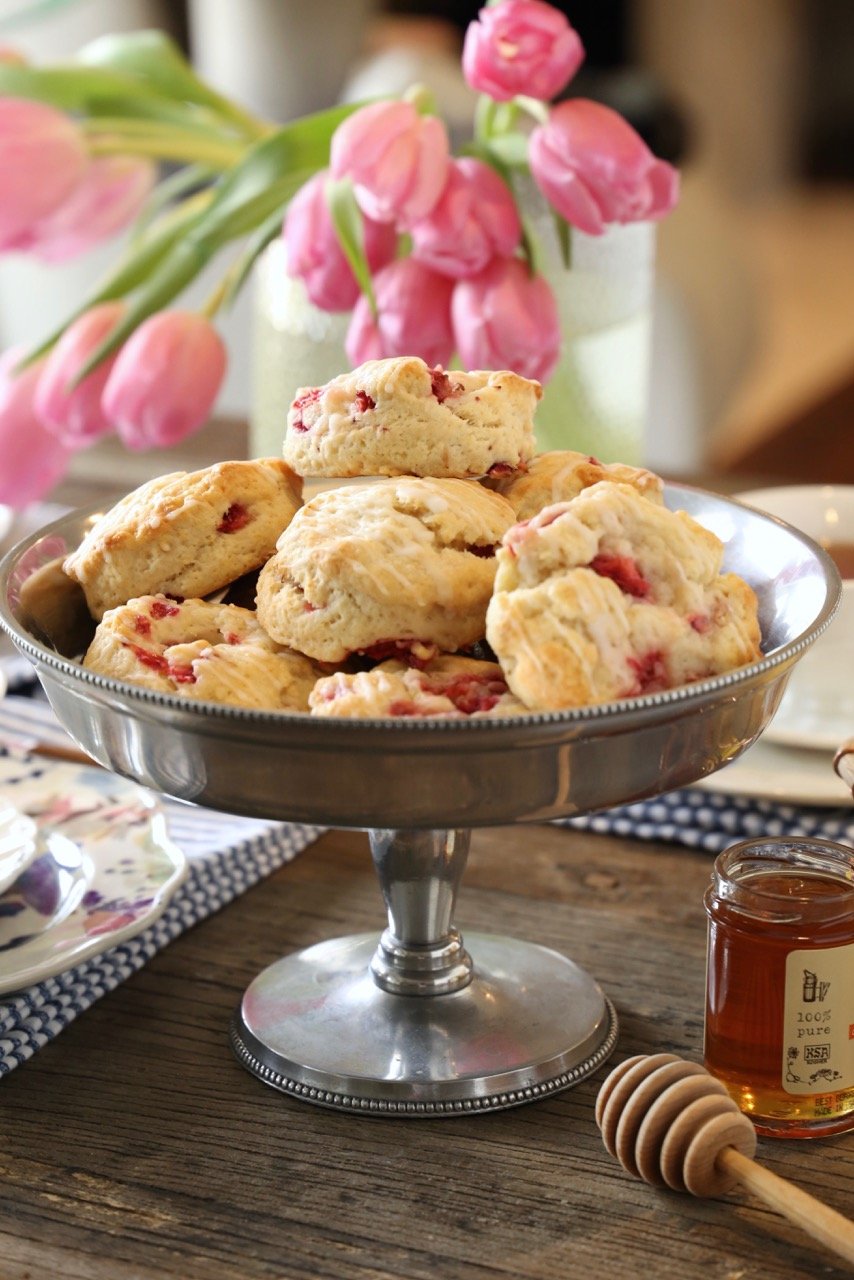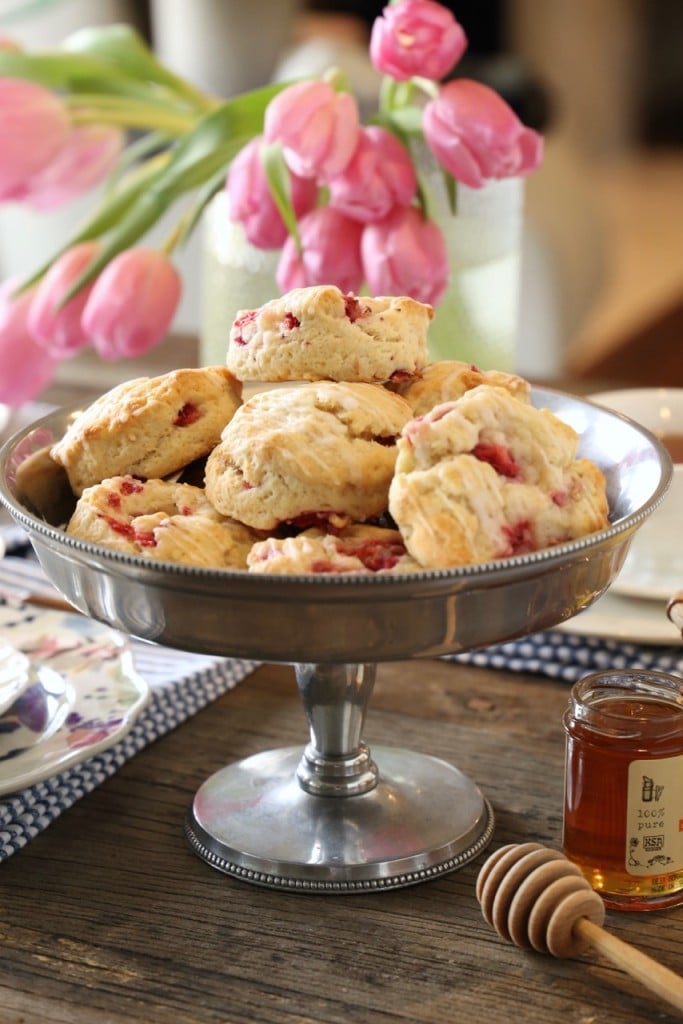 Strawberry Lemon Scone
2 Cups

All Purpose Flour

¼ Cup

Granulated Sugar

1 Tbsp

Baking Powder

½ tsp

Salt

1 Tbsp

Lemon Zest

½ Cup

Unsalted Butter, Cubed

1

Egg

¼ Cup

Heavy Whipping Cream

¼ Cup

Sour Cream

1 Tbsp

Lemon Juice

1 Cup

Fresh Strawberries, Chopped
Instructions
Preheat oven to 400 degrees F
In a mixing bowl, combine flour, granulated sugar, baking powder, salt and lemon zest
With the paddle attachment, mix to combine
Slowly add in the cold cubed butter and mix until a small crumb texture forms
In a small bowl, whisk together one egg, heavy cream, sour cream and lemon juice
Add the liquid ingredients to the flour mixture
Before it is fulling combined slowly mix in the chopped strawberries and mix until fully combined (do not over mix)
Roll out the dough onto a floured surface (about 1" thick) and cut into 3" rounds
Place scones on a parchment lined baking sheet and brush heavy cream on the top of each scone
Bake for 12-15 minutes or until the edges are lightly golden
Once the scones are removed from the oven and have slightly cooled, drizzle *lemon glaze on each one
Serve immediately or store in air tight container
(Scones can be frozen to enjoy later)
Lemon Glaze
1 Cup Powdered Sugar
2-3 Tbsp Lemon Juice
1 tsp Lemon Zest garnish
In a small bowl whisk together the lemon juice and powdered sugar until smooth
Drizzle over scones and sprinkle lemon zest for garnish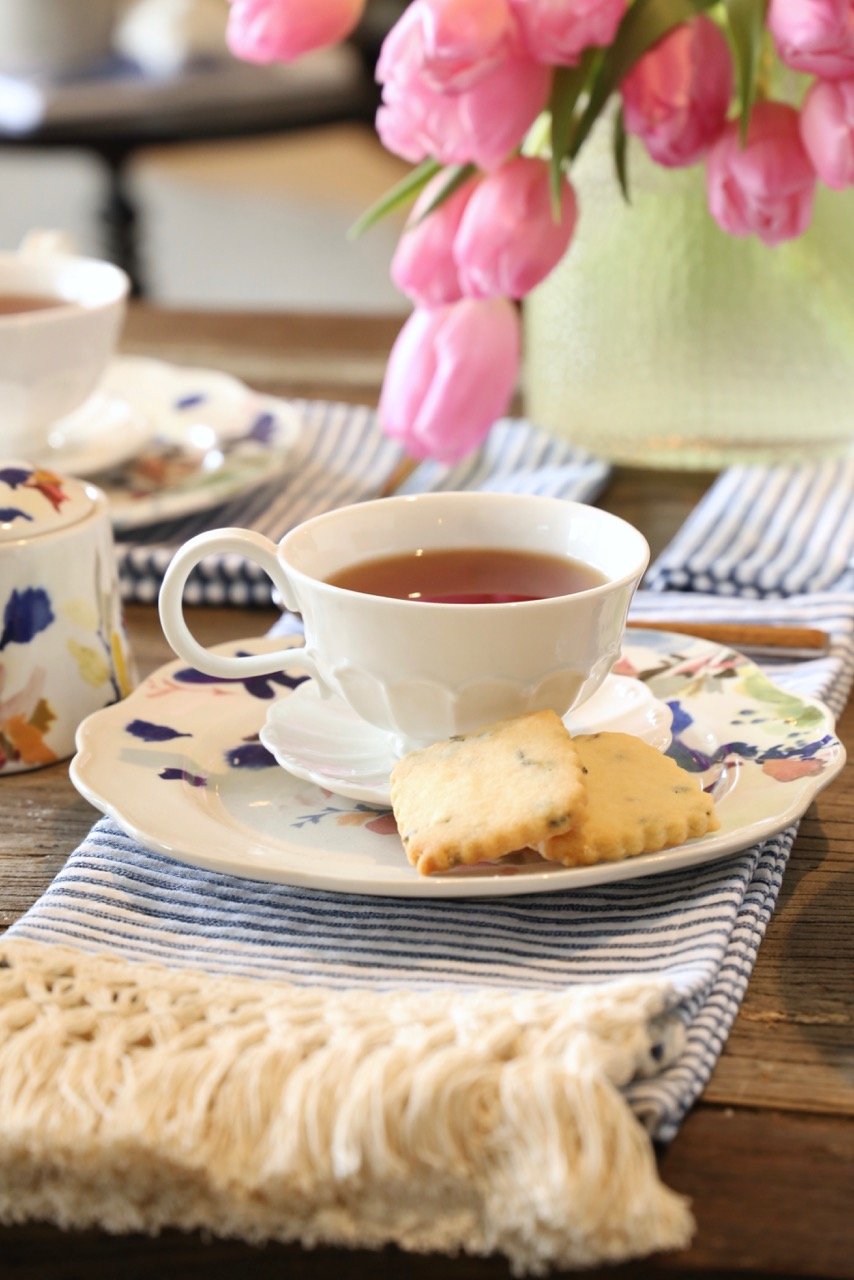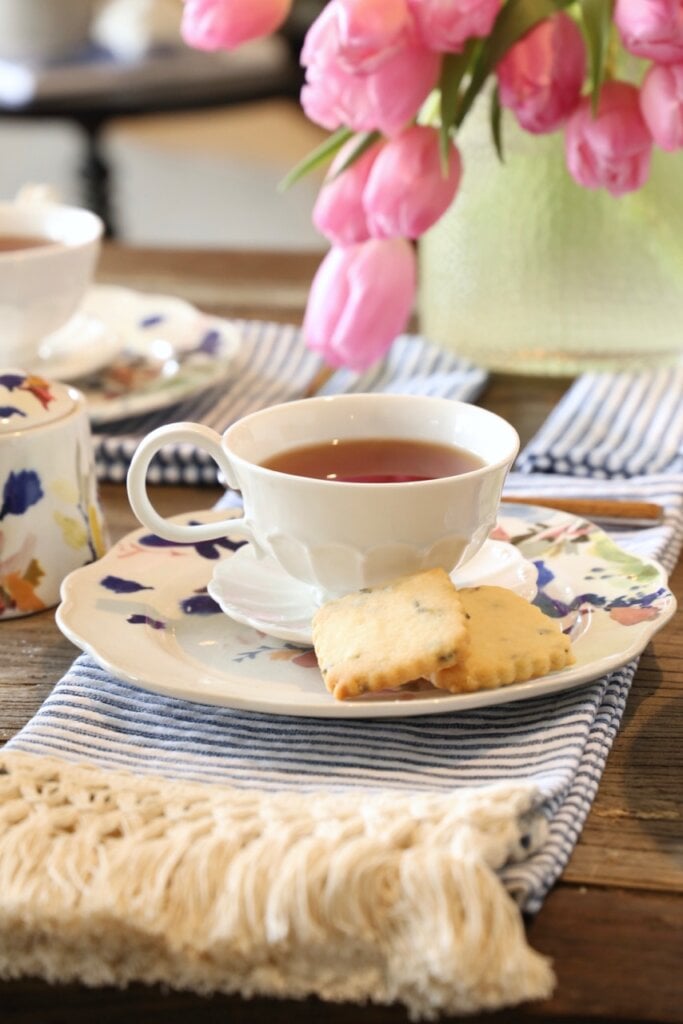 Honey Lavender Tea Cookie
1 Cup

Unsalted Butter

½ Cup

Granulated Sugar

3 Tbsp

Honey

2 Cups

All Purpose Flour

2 Tsp

Dried Lavender
Instructions
Preheat oven to 350 degrees F
In a mixing bowl, cream together the butter, sugar and honey
Slowly add the flour and dried lavender to the butter mixture
Slowly mix until combined
Wrap the dough and refrigerate for 30 minutes
Roll out the dough onto a floured surface to approximately ½'" and cut into 2" squares
Bake for 10-12 minutes or until edges are a light golden brown