Ready for any celebration, Sugar Cookie Bars are super soft, loaded with sprinkles and topped with the creamiest Buttercream Frosting.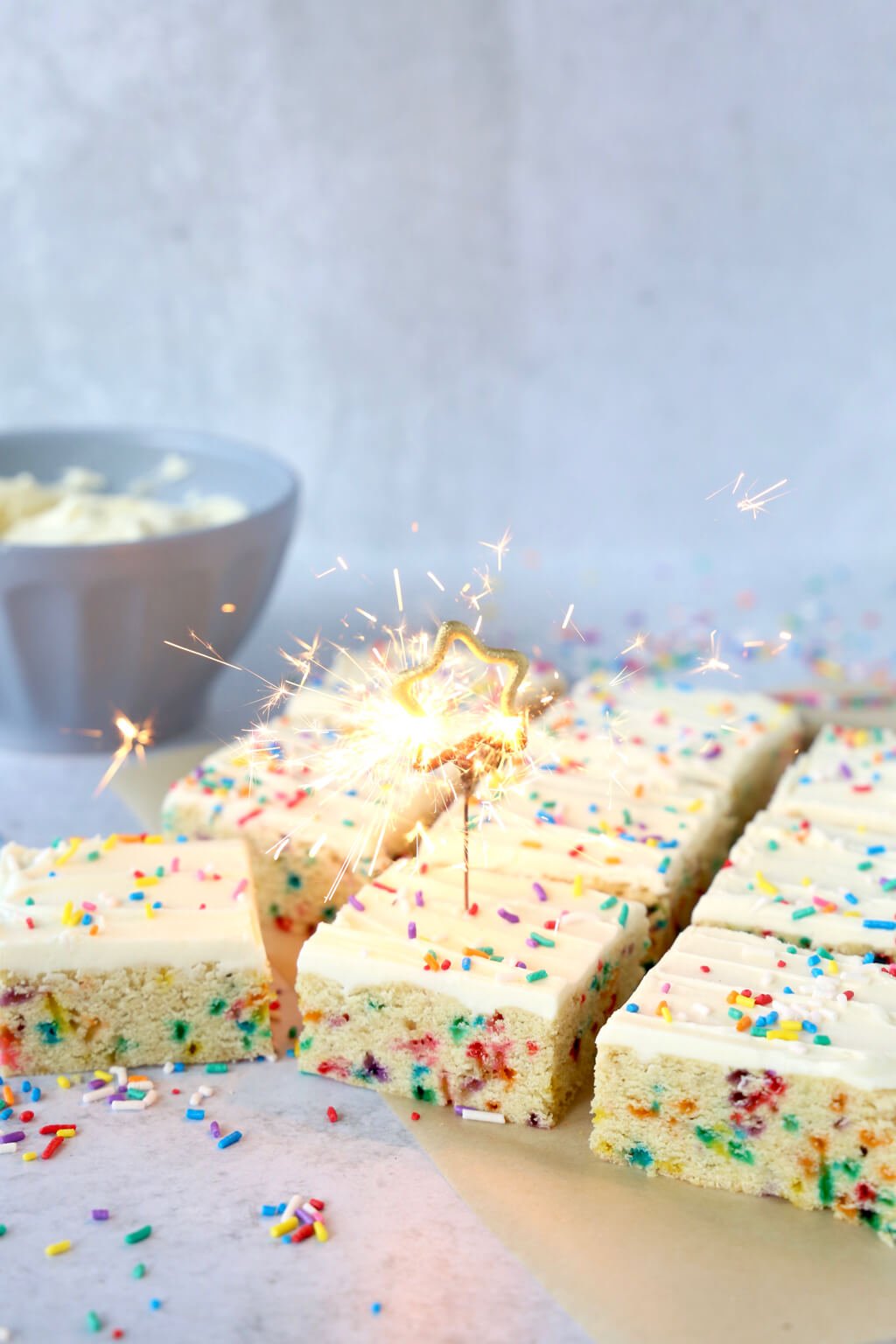 Sugar cookies can come in so many shapes and sizes and have the best classic flavor that brings us back to all our childhood celebrations.  Most sugar cookies are made to be scooped or rolled out and cut into shapes.  They can be enjoyed plain or can be decorated with royal icing or a buttercream frosting.  There are so many ways to love a sugar cookie, but I have discovered my love for Sugar Cookie Bars.  These keep things simple, serve a crowd without all the time of individually scooping or cutting out shapes.  These Sugar Cookie Bars are made with one batter spread into a square cake pan, baked and frosted with my all time favorite Buttercream Frosting.  Rainbow sprinkles are a great addition to make these festive and fun for any celebration!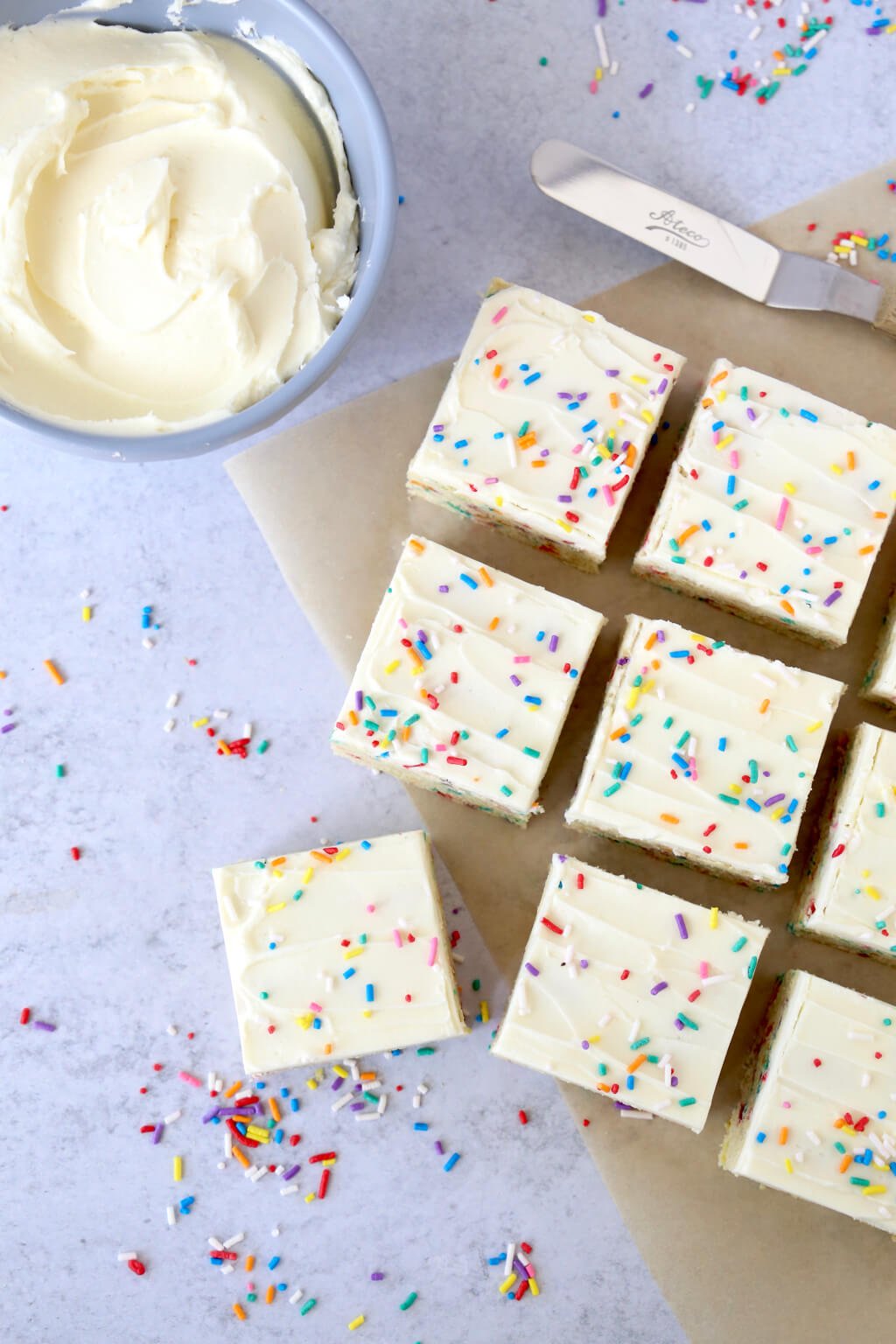 The Ingredients That Make These Sugar Cookies The Best
Sugar Cookies have a flavor that both kids and adults love.  Made with simple ingredients that you have in your pantry; unsalted butter, granulated sugar, one egg and one egg yolk, baking powder and baking soda.  I love the flavor or almond extract and vanilla extract added into these soft and chewy bars.  It is a hint of flavor that makes you coming back for more.   When baking these for a celebration, rainbow sprinkles are the perfect addition to the sugar cookie batter and as decoration on the top of the buttercream frosting.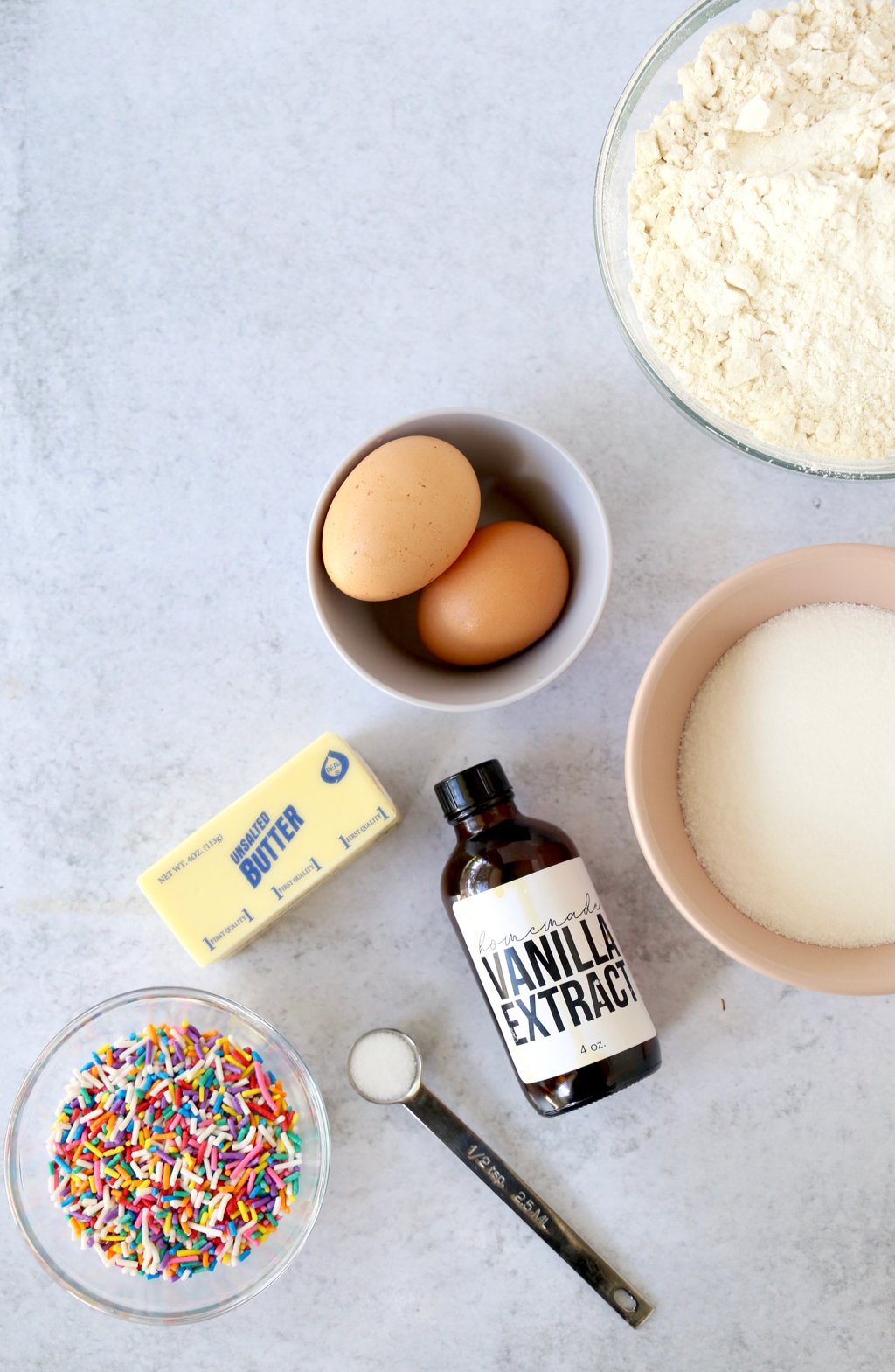 Taking Sugar Cookie Bars To The Next Level With A Classic Buttercream Frosting
There is truly nothing better than a classic Buttercream Frosting.  I use this Buttercream Frosting recipe on cakes, cupcakes, cookies, in between cookies for cookie sandwiches or really just to take a spoon and enjoy! Made with unsalted butter, vegetable shortening, powdered sugar and vanilla extract this Classic Buttercream will compliment the Sugar Cookie Bars perfectly.
What Is The Difference Between Sugar Cookies and Shortbread Cookies
When I am making shaped and decorated cookies, my go to is my famous Shortbread Cookie Recipe that I have made for so many years.  They are super buttery, not overly sweet and glazed with a smooth royal icing and very different than a Sugar Cookie.  Shortbread is typically made with sugar, flour, butter and an egg keeping the flavor simple and focusing on the butter.   Sugar Cookies bring back memories of childhood and I love the classic sugar cookie made into bars topped with a delicious Buttercream Frosting.  Sugar cookies have less butter than a traditional shortbread cookie, they are made with baking powder and baking soda for a more cake like texture and this recipe is made with a dash of almond extract.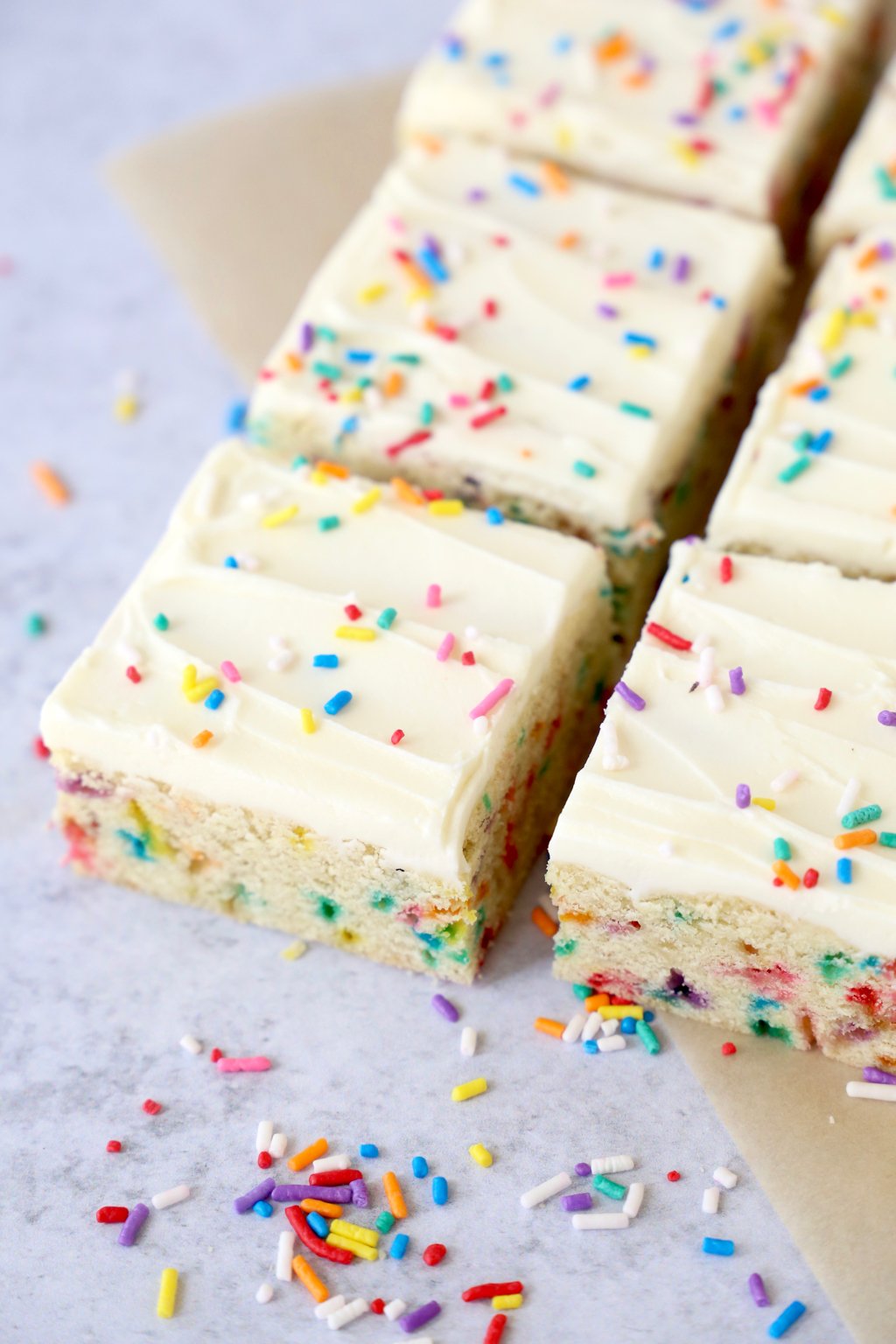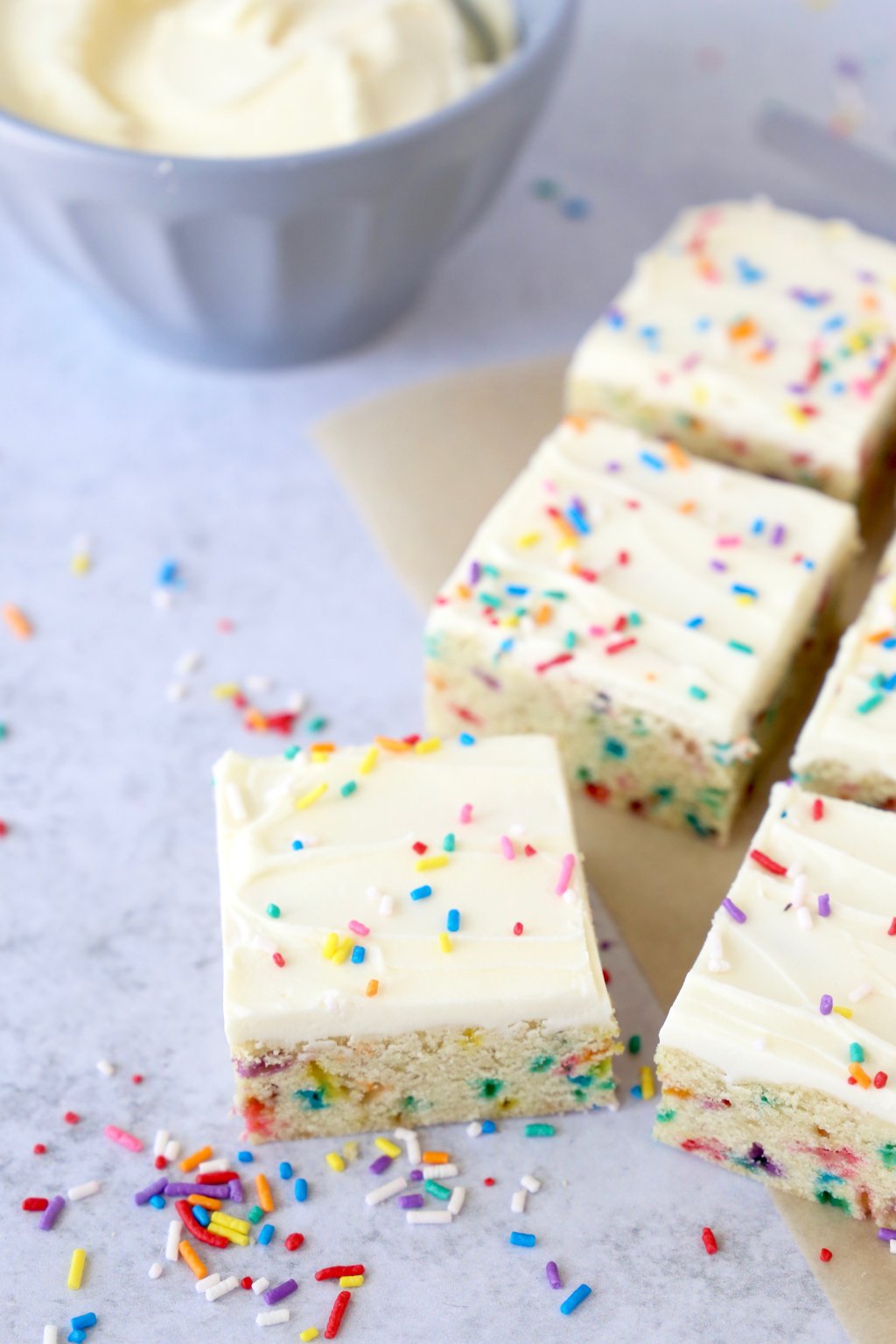 Print
Sugar Cookie Bars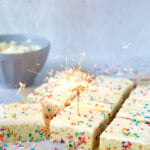 Sugar Cookie Bars
½ Cup Unsalted Butter
1 Cup Granulated Sugar
1 Egg + 1 Egg Yolk
2 teaspoons Vanilla Extract
½ teaspoon Almond Extract
2 Cups All Purpose Flour
½ teaspoon Salt
1 teaspoon Baking Powder
½ teaspoon Baking Soda
½ Cup Rainbow Sprinkles 
Buttercream Frosting
1 Cup (2 sticks) Unsalted Butter
¼ Cup Vegetable Shortening
3 Cups Powdered Sugar
½ tsp Vanilla Extract
Rainbow Sprinkles for Garnish
Instructions
Prepare the Sugar Cookie Bars:
Preheat oven to 350 degrees F and prepare a 9x9 inch square cake pan with parchment paper
In a medium bowl combine the flour, salt, baking powder and baking soda; set aside
In a mixing bowl with a paddle attachment, cream together the unsalted butter and granulated sugar until smooth and fluffy
Add in the egg and egg yolk to the creamed butter and sugar and mix until fully combined
On low speed, slowly add in the dry ingredients to the butter mixture until fully combined
Just before the cookie batter is finished mixing, add the sprinkles into the batter and mix on low speed until sprinkles are mixed throughout the batter
Remove the bowl from the electric mixer and scrape the sugar cookie batter into the prepared square cake pan
Press the sugar cookie batter into the pan until it is spread evenly
Bake the Sugar Cookie Bars for 14-16 minutes or until the top of the cookie has a very light golden edge
Remove the Sugar Cookie Bars from the oven and allow them to cool completely before removing them from the pan
While you are waiting for the Sugar Cookie Bars to cool, prepare the Buttercream Frosting

Prepare the Buttercream Frosting:
In a mixing bowl with paddle attachment, cream together the unsalted butter and vegetable shortening until creamy
Add the vanilla extract into the butter mixture
Slowly add the powdered sugar into the butter mixture, one cup at a time until fully combined
Mix the Buttercream Frosting on medium to high for 3-4 minutes until the buttercream is light, fluffy and smooth
Remove the buttercream frosting from the mixing bowl and store in an airtight container until ready to use
Once the Sugar Cookie Bars are cooled, remove the bars from the pan and spread the Buttercream Frosting to cover the top of the bars
Garnish with rainbow sprinkles
For a straight and easy cut, refrigerate the bars for 5 minutes to allow the Buttercream Frosting to set
Cut the Sugar Cookie Bars into desired shape and size, serve and enjoy!
If you are not serving immediately, store the bars in an airtight container for 2-3 days