Flavorful, moist, perfectly spiced, this Pumpkin Cream Cheese Bundt Cake is exactly what you need this Fall. The combination of pumpkin cake and cream cheese filling is hard to beat.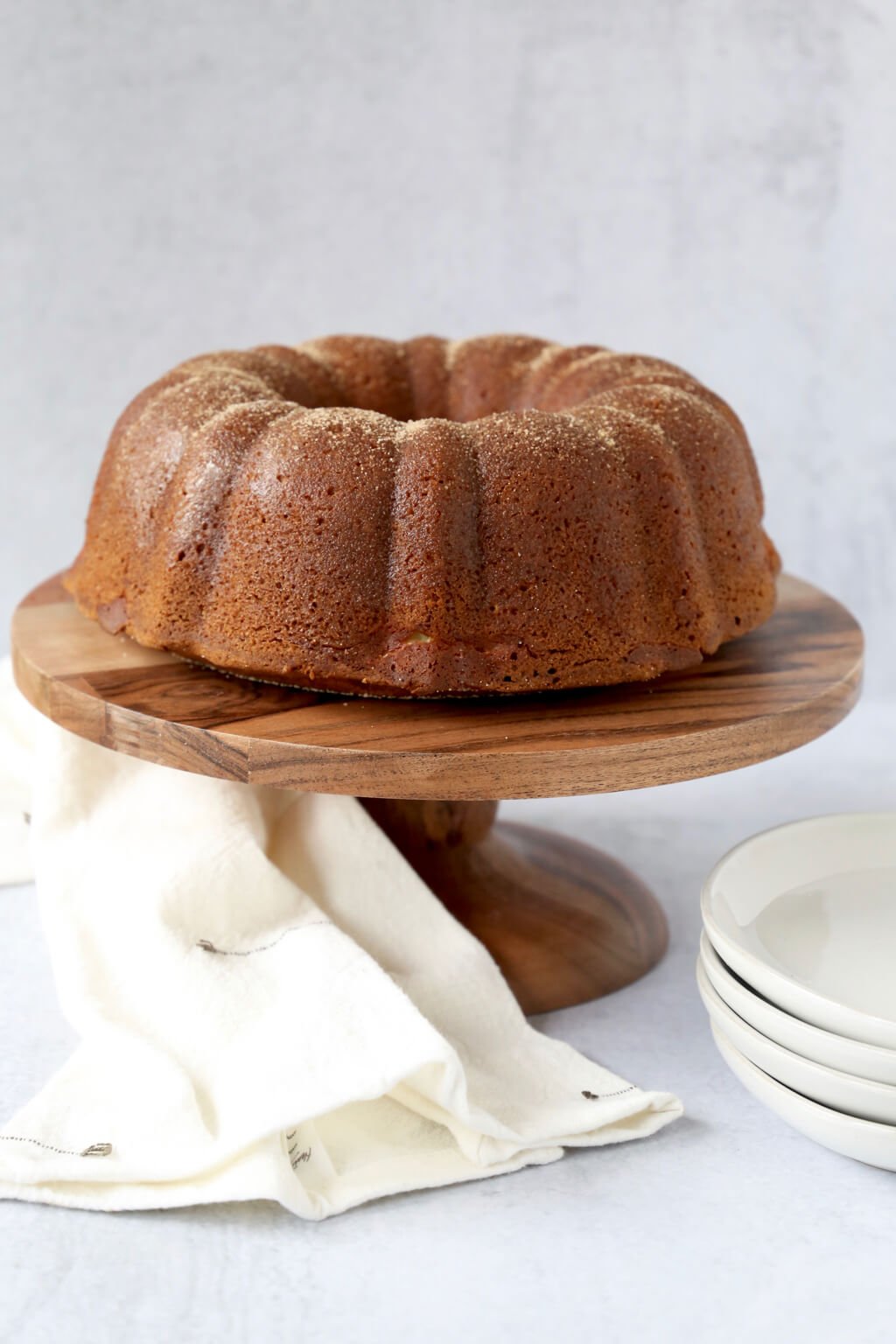 There are so many ways to use pumpkin in the Fall and I love all the options but there is nothing better than a classic bundt cake. The cream cheese filling is what makes this pumpkin bundt cake extra special. Although I love cream cheese frosting paired with a pumpkin bundt cake, I love cream cheese filling even more. Moist in texture and full of so much flavor, this pumpkin cream cheese bundt cake will be perfect for a breakfast treat with coffee or served for dessert.
If you find yourself bundt cake obsessed after making this recipe, you should try this Apple Spice Bundt Cake next. As these Fall days get chillier, having a warm, spiced cake really is the best comfort! These kinds of recipes will also be amazing for your Thanksgiving dessert lineup.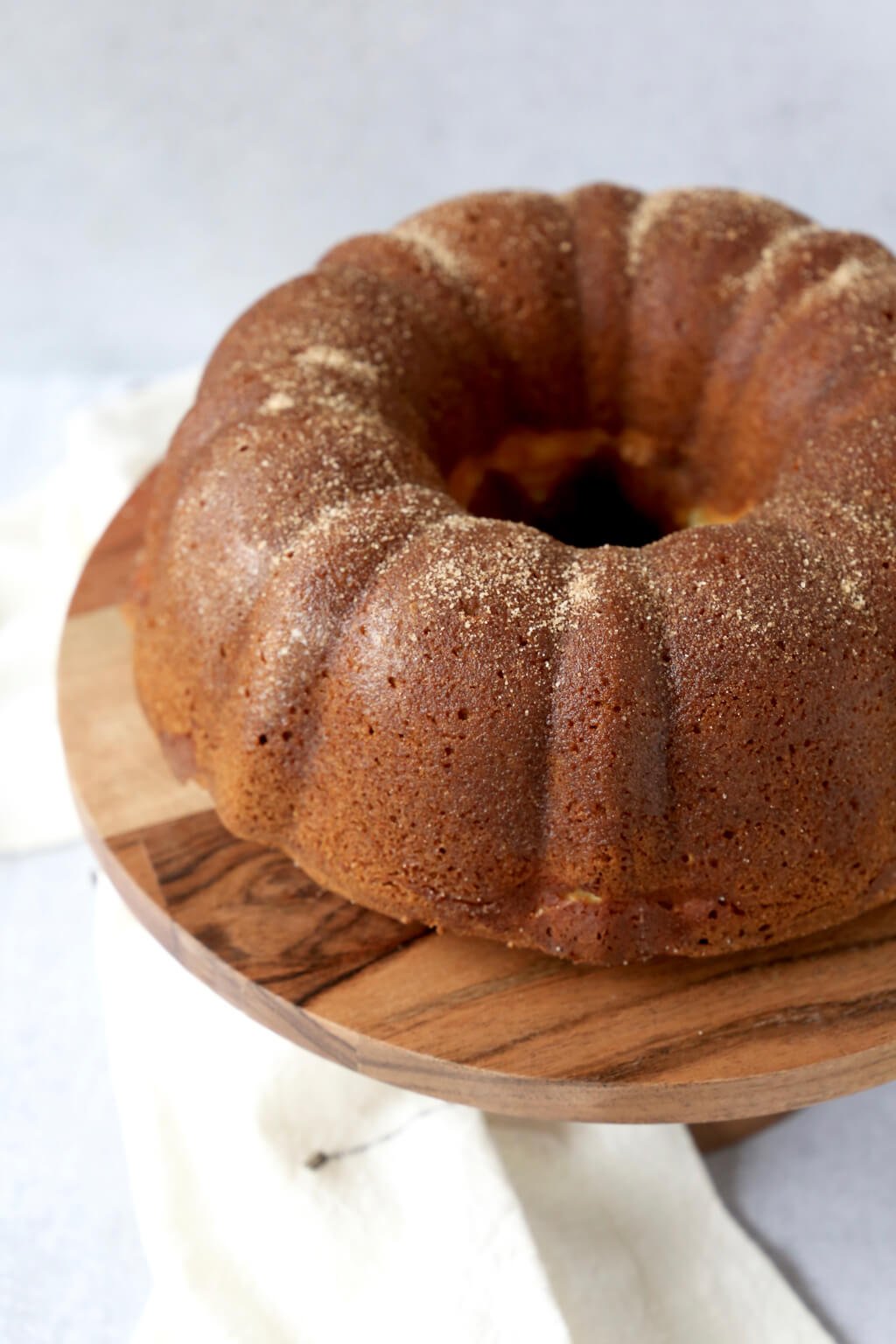 Ingredients
Pumpkin puree- 100% pure pumpkin puree, make sure it's not pumpkin pie filling
Spices- Cinnamon and Ginger will liven up this cake, and additional spices like nutmeg and allspice can also be added
Flour- Simple, all-purpose flour is great for this recipe
Cream Cheese- The magic ingredient of the creamy filling
Sugar- For sweetness, and to combine with cinnamon for the topping
Baking Soda and Powder- Make sure you use both leavening agents to help the cake rise
Directions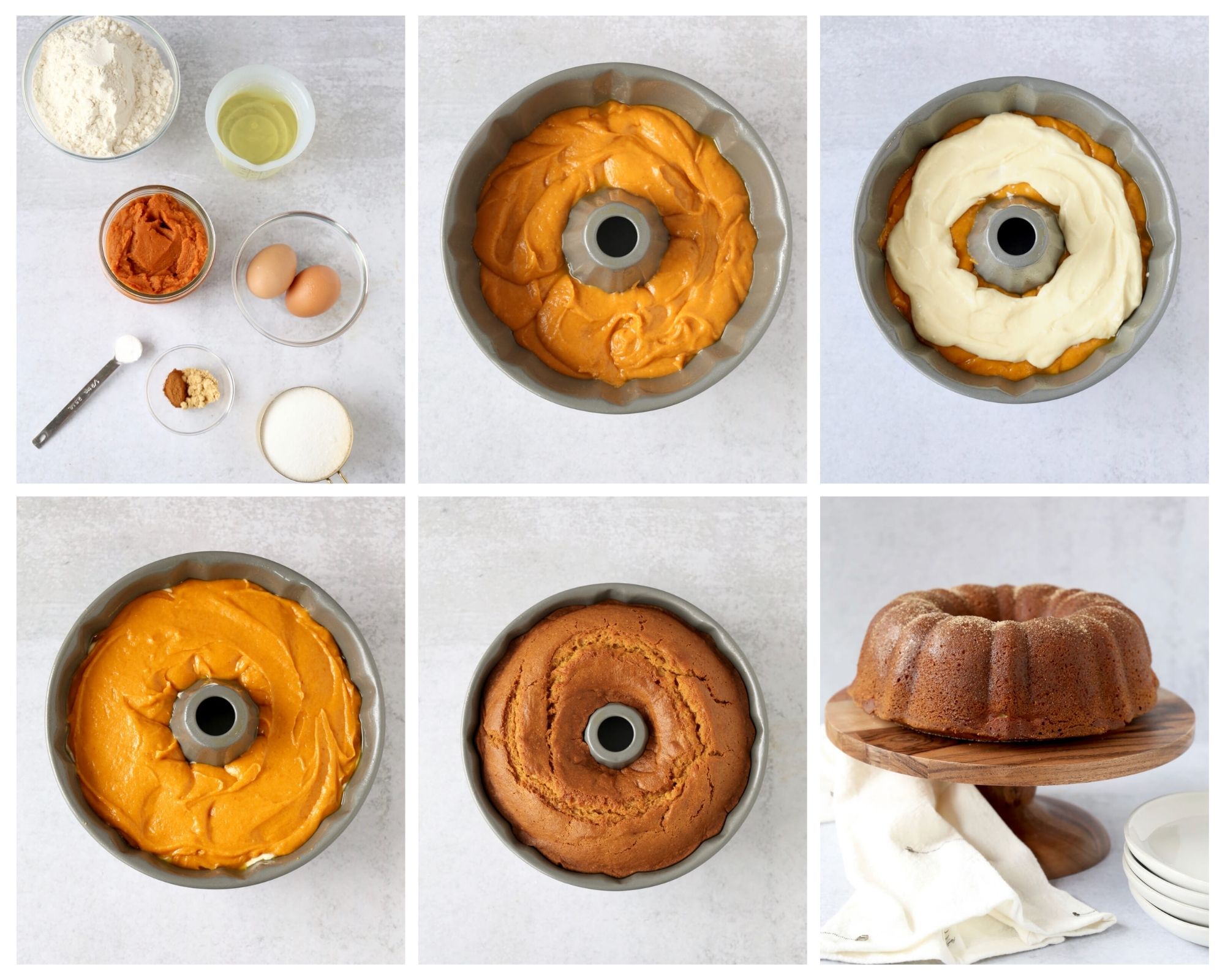 In a large bowl combine the flour, baking soda, baking powder, cinnamon, ginger and salt
In a medium bowl whisk the granulated sugar, vegetable oil, eggs and pumpkin puree together
Pour the liquid mixture into the dry mixture and whisk together until smooth; set aside
Whisk the cream cheese, granulated sugar, egg, and vanilla until smooth and creamy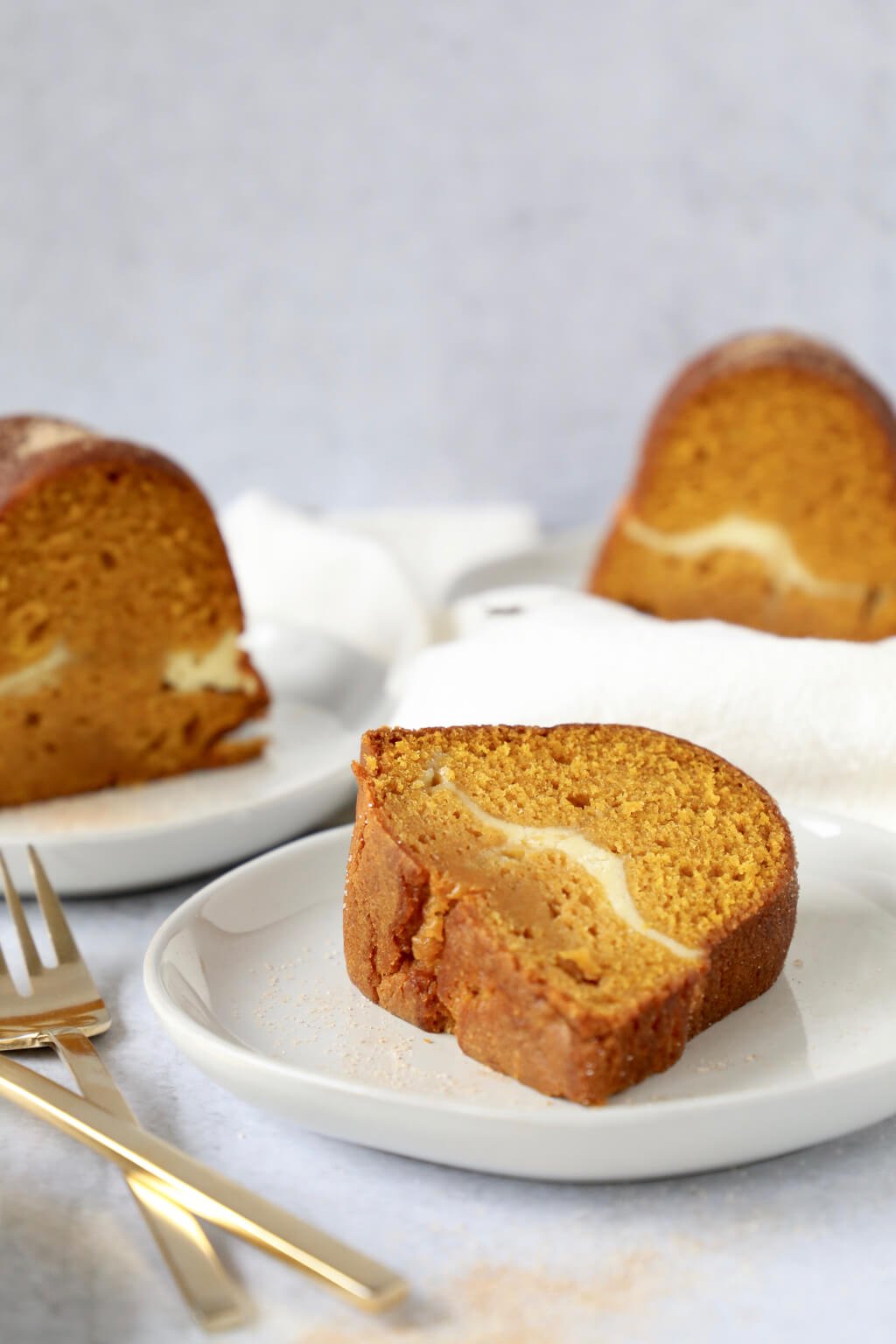 Fill your prepared bundt pan halfway with pumpkin cake batter
Layer the cream cheese filling evenly over the batter
Pour the rest of the cake batter on top
Bake for 50 to 55 minutes, or until a cake tester comes out clean
While the cake is in the oven, mix together the sugar and cinnamon for the topping
Once the bundt cake is baked and removed from the pan, brush the melted butter over the top of the bundt cake and immediately sprinkle the top with cinnamon sugar
Serve and enjoy!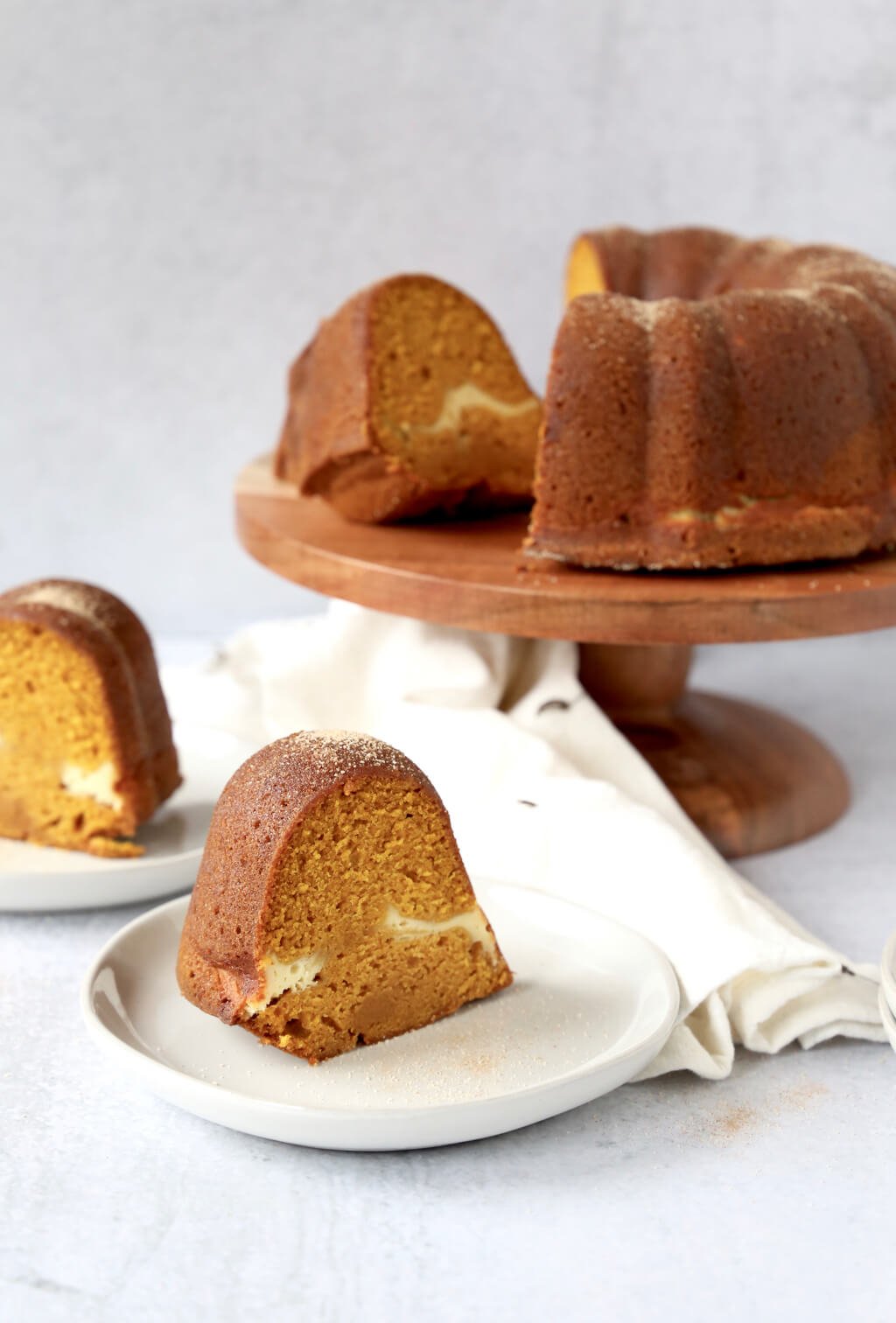 Tips and FAQS for Pumpkin Cream Cheese Bundt Cake
Make sure all the ingredients are room temperature so everything combines easily
Have the cinnamon sugar prepared before you brush the cake with butter, as it needs to be sprinkled on right over the butter to stick
What can I do to make sure the cake comes out of the pan easily?
Butter and flour the pan before pouring the batter in, and the cake should come out without any problems.
More Desserts You Will Love
Print
Pumpkin Cream Cheese Bundt Cake
Author: kristen massad
Prep Time:

20 minutes

Cook Time:

50-55 minutes

Total Time:

0 minute

Yield:

10

-

1

2

1

x
3 Cups All Purpose Flour
2 teaspoons Baking Soda
½ teaspoon Baking Powder
1 teaspoon Ground Cinnamon
1 teaspoon Ground Ginger
1 teaspoon Salt
2 ½ Cups Granulated Sugar
1 Cup Vegetable Oil
3 Eggs
1 (15-ounce can) Pumpkin Puree 
Cream Cheese Filling
8 ounces Cream Cheese, softened
¼ Cup Granulated Sugar
1 Egg
1 teaspoon Vanilla Extract 
Cinnamon Sugar Topping
2 Tablespoons Unsalted Butter, Melted
3 Tablespoons Granulated Sugar
1 teaspoon Ground Cinnamon 
Instructions
Preheat oven to 350 degrees F and prepare a bundt pan with melted butter or pan spray 

In a large bowl combine the flour, baking soda, baking powder, cinnamon, ginger and salt; set aside 

In a medium bowl, whisk together the granulated sugar, oil and eggs mix until combined and fluffy

Add the pumpkin puree into the sugar mixture and mix until fully combined

Slowly pour the liquid ingredients over the dry ingredients and whisk until all the ingredients are combined and smooth; set aside while you prepare the cream cheese filling

Cream Cheese Filling: Whisk together the cream cheese, granulated sugar, egg and vanilla extract until smooth and creamy

Fill the prepared bundt pan halfway with the pumpkin cake batter 

Layer the cream cheese filling on top of the batter and spread evenly 

Add the remaining pumpkin cake batter to the bundt pan 

Place the bundt pan in the oven and bake for 50-55 minutes or until a cake tester comes out clean 

While the cake is baking, prepare the cinnamon sugar topping: in a small bowl, mix together the cinnamon and sugar
Keywords: Pumpkin Cream Cheese Bundt Cake