A cake for fall, for gatherings and for the love of apples.  Apple Spice Bundt Cake with Butter Rum Glaze is full of flavor, deliciously moist, filled with apple chunks, chopped pecans and a butter rum glaze that will have you licking your plate.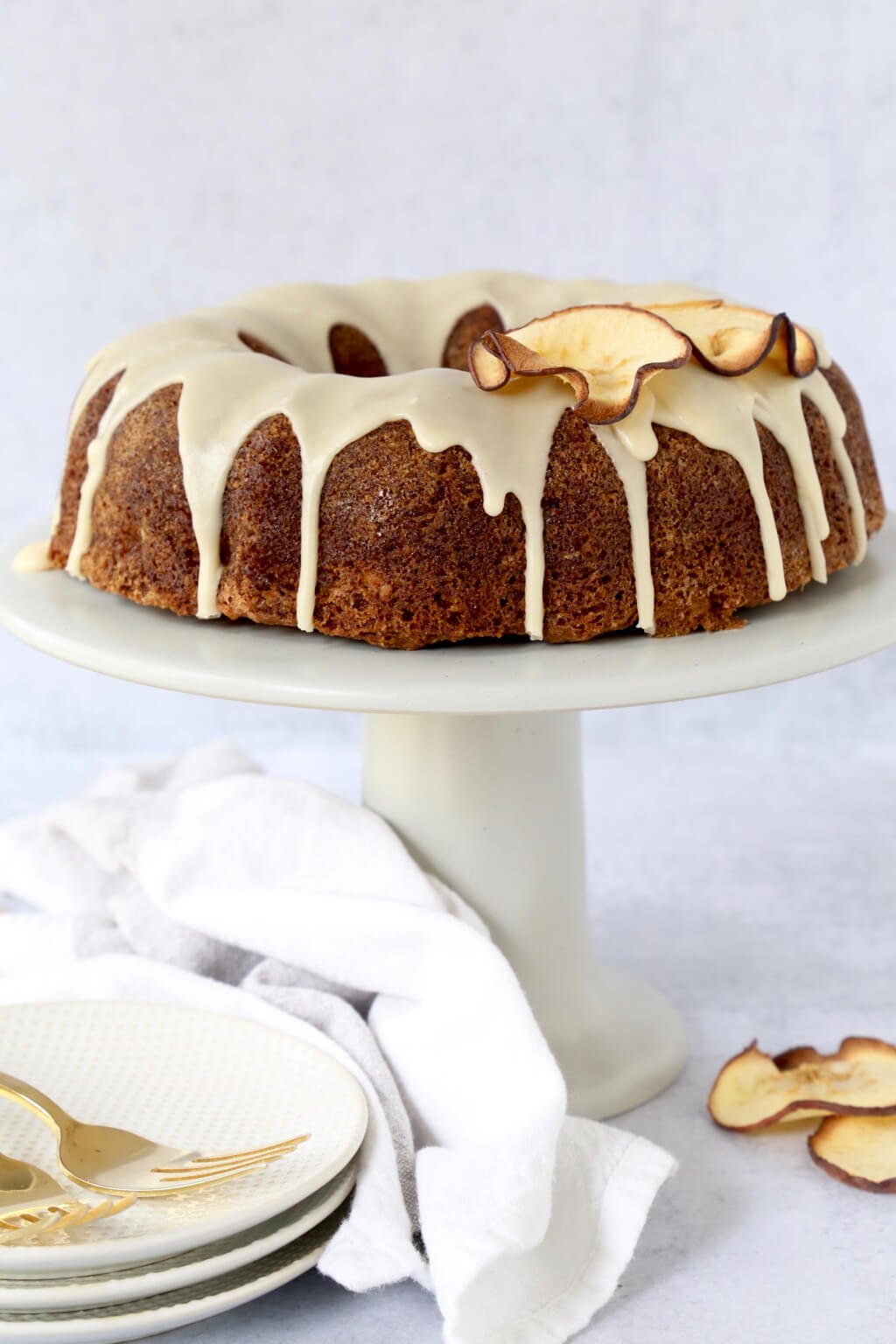 APPLES!  Once September rolls around, apples are over flowing in the markets and there are so many awesome ways to use them.  Sweet, savory, cocktails, butters or just enjoying a crisp and fresh slice of your favorite apple.  There are so many varieties and each one has a purpose, but my absolute favorite apple to eat raw and bake with is the Honey Crisp Apple.  It is super crunchy, juicy, slightly sweet and when it is baked into something, it keeps a beautiful texture without getting to mushy.  Honey Crisp Apples are the perfect addition to the Apple Spice Bundt Cake and let me tell you, there are a lot of apples in this bundt cake, you will love every bite.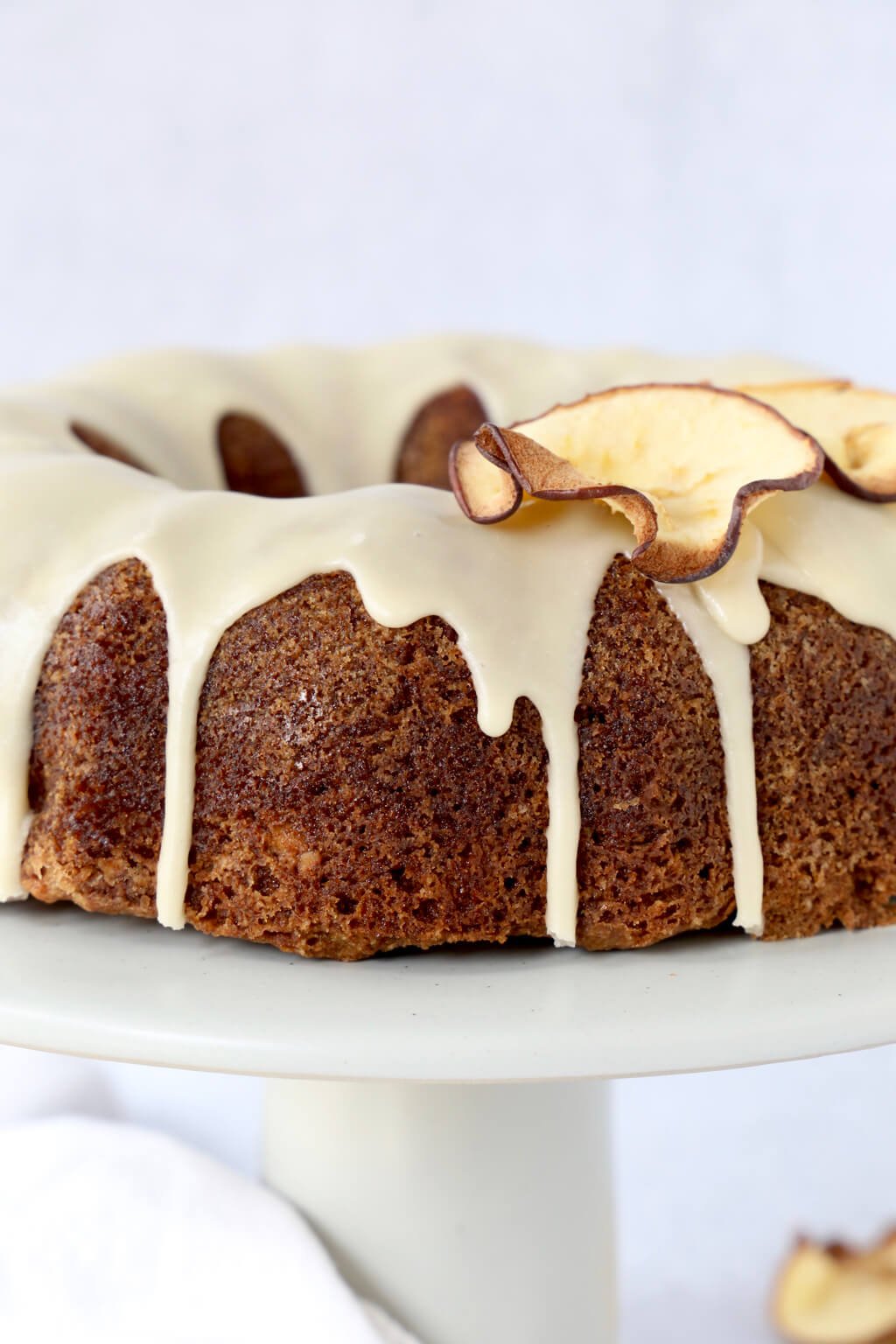 What is Apple Spice Bundt Cake  with Butter Rum Glaze
I love apples in a classic pie form, but adding apples into a cake is like magic.  Apple Spice Bundt Cake is a really simple spice cake base but the addition of four cups of chopped apples really livens this cake up.  When you are mixing the batter, you might think there are to many apples, but I promise, keep adding them and each bite will remind you why you did.  Chopped Pecans, chopped apples, cinnamon and ginger  gives this bundt cake so much personality.  Now, for the best part, the glaze that you will want to lick off of your plate. Butter Rum Glaze is the finishing touch for this Apple Spice Bundt Cake that can be drizzled or spread over the top.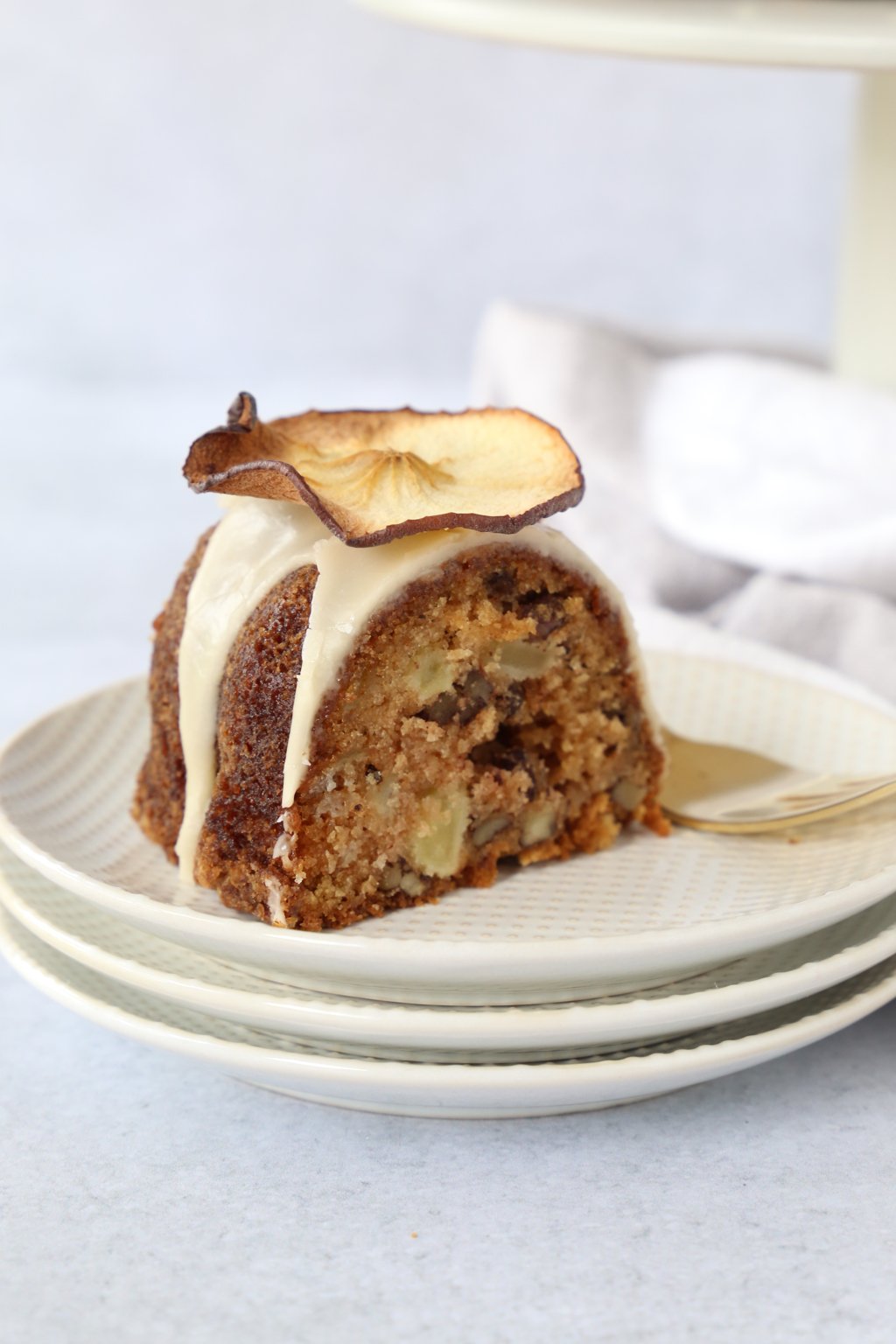 How To Make Apple Spice Bundt Cake with Rum Glaze
The Apple Spice Bundt Cake is made in a classic technique of combining the dry ingredients; flour, sugar, baking soda and spices into the mixing bowl and then cutting the cubed butter in slowly to create a small crumb texture.  This ensures that the butter is distributed throughout the batter and creates a beautiful texture one the cake is baked.  Two eggs and vanilla extract are added to the flour and butter combination to finish the base of this cake.  This will be a very thick batter until you add the apples.  Four cups of chopped apples adds a lot of moister to this cake batter while mixing it together on a low speed.  For the final addition, chopped pecans are added into the batter and add a great texture and a nutty flavor to the spice cake.  Once the Bundt Cake is baked, allow it to cool completely before removing it from the pan.  Place the Apple Spice Bundt Cake on a serving platter and prepare the glaze.  This Butter Rum Glaze needs to be made right before you are ready to pour in over the cake because it will harden quick.  In a small sauce pan, combined the butter, rum and vanilla extract until melted and then slowly whisk in the powdered sugar to create a silky smooth glaze.
Recipe Tips To Guarantee The Best Cake 
Although this is pretty simple cake to make, take your time incorporating all the ingredients you have success!
Be sure to all of the dry ingredients first.  A lot of cake recipes require you to cream the butter and sugar, but this recipe cuts the butter in instead of creaming it
Made sure that the butter is cut into small cubes and added in slowly so that it creates a crumb texture
Once you add the eggs into the flour and butter mixture it will look very thick…you are doing it right!
The apples should be dice into 1/4 inch pieces
The glaze is one of my favorite parts of this cake, but make sure you don't make it in advance.  It will get very thick very fast
Once you make the glaze, spread quickly and lick the spoon when you are done…its SO GOOD !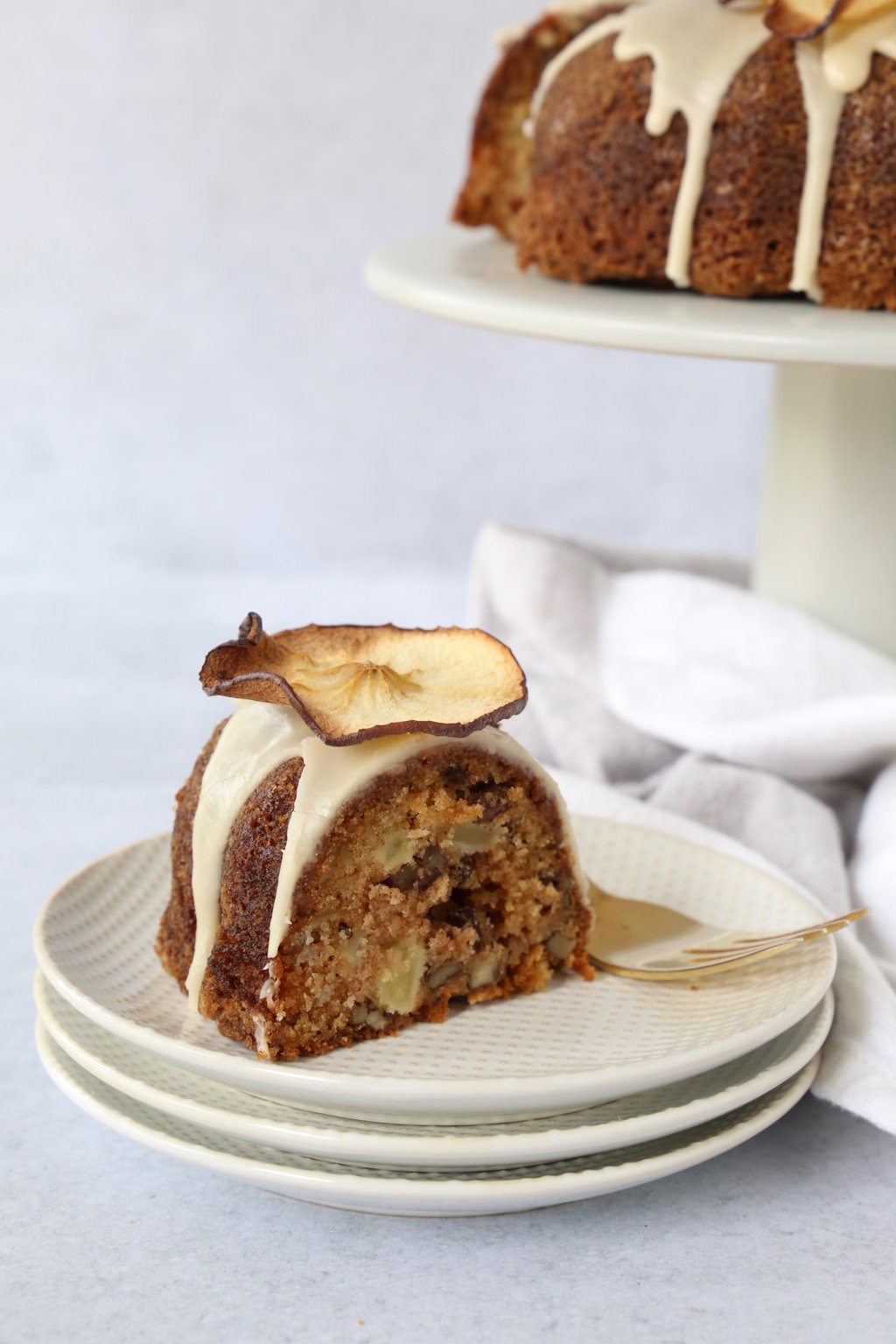 More Apple Recipes You Will Love
Apple Dumpling
French Apple Tart
Buttermilk Apple Spice Muffins 
Apple Cinnamon Crumb Cake 
Vanilla Bean Apple Butter 
Print
Apple Spice Bundt Cake with Butter Rum Glaze
Ingredients
Apple Spice Bundt Cake
1 ¾ Cup All Purpose Flour
1 ½ Cup Granulated Sugar
1 ½ teaspoon Baking Soda
½ teaspoon Salt
¼ teaspoon Ground Cinnamon
¼ teaspoon Ground Ginger
¾ Cup (1 ½ Sticks) Unsalted Butter, Cubed
2 Eggs
1 teaspoon Vanilla Extract
4 Cups Honey Crisp Apples, Peeled, Cored and Chopped
1 Cup Pecans, Chopped 
Butter Rum Glaze
3 Tablespoon Unsalted Butter
2 Tablespoon Spiced Rum
½ teaspoon Vanilla Extract
1 Cup Powdered Sugar 
Instructions
Prepare the Apple Spice Bundt Cake:
Preheat oven to 350 degrees F and prepare a 10 inch bundt pan coated with butter or pan spray

In a mixing bowl with paddle attachment, combine the flour, sugar, baking soda, salt, cinnamon and ginger; mix on low speed just to combine

With the mixer on low medium speed, slowly add the cubed butter pieces to the flour mixture and mix until it has become a coarse crumb texture and the butter is fully incorporated 

Whisk together the eggs and the vanilla extract and add into the flour and butter mixture; mix on medium speed for 2 minutes or until the batter has come together and is smooth (it will be thick)

On low speed, add in the chopped apples and chopped pecans and mix until fully combined

Evenly spread the cake batter into the prepared bundt pan

Bake at 350 degrees F for approximately 40 minutes or until a cake tester comes out clean 

Remove the bundt pan from the oven and allow the cake to cool completely before removing it from the panOnce the cake is cooled, flip the bundt pan over onto a serving dish and allow the cake to slide out
Prepare the Butter Rum Glaze:
In a small saucepan, combine the butter, rum and vanilla extract on low to medium heat until the butter has melted and it begins to simmer 

Remove the pan from the heat and whisk in the powdered sugar until smooth

Immediately spread or drizzle the glaze on the top of the bundt cake and allow it to dry before serving