Perfectly spiced, moist, and glazed with a rich cream cheese drizzle, Pumpkin Ginger Bundt Cake combines the best flavors of Fall. This cake will make a great breakfast, snack, or dessert.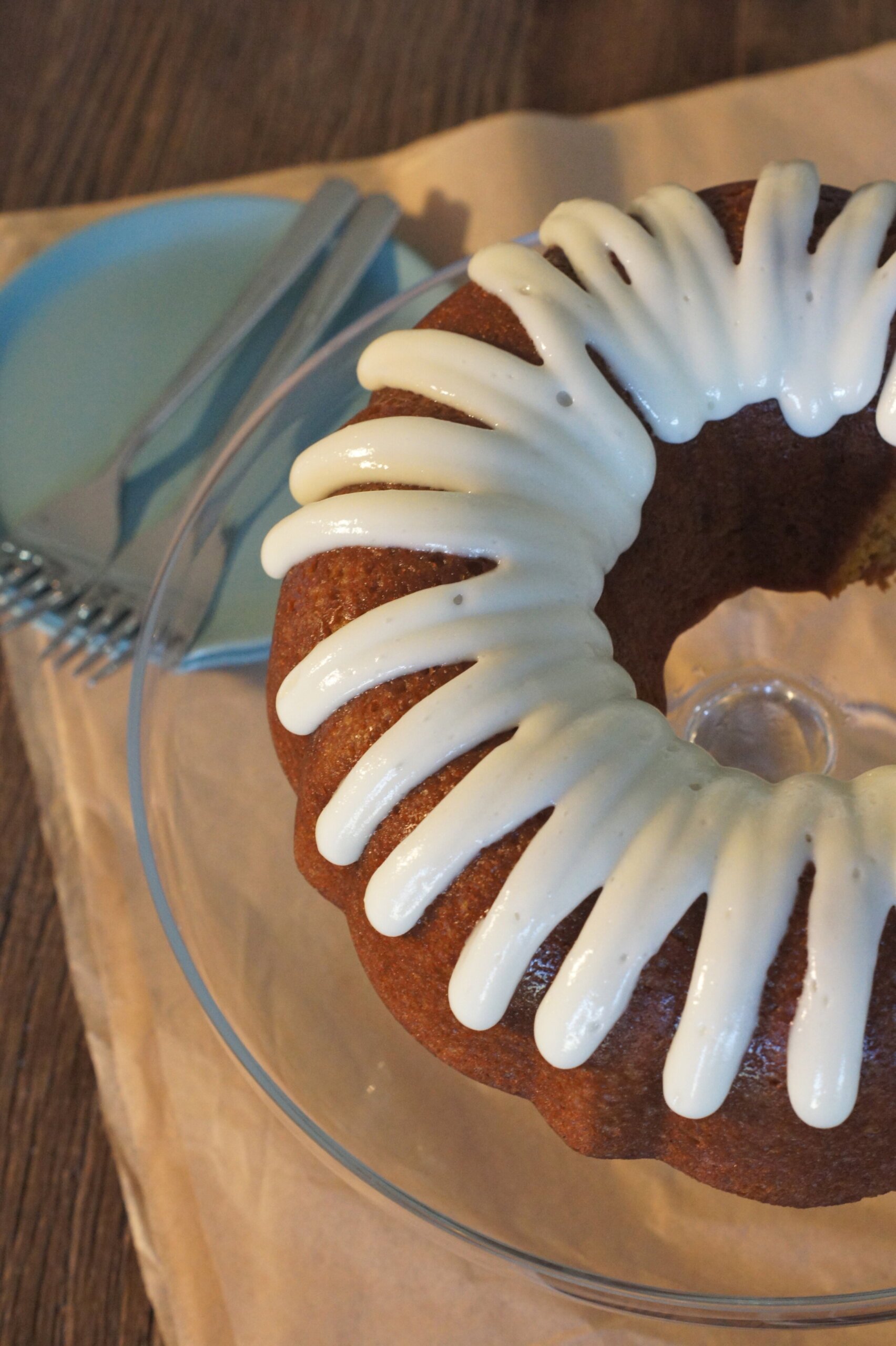 As we enter into November, which just happens to be my birthday month and favorite month of the year, I am still feeling the love for pumpkin. I don't think that ever goes away! I have officially made this bundt cake too many times, but I can't help it, everyone in my family loves it. It's been proven to be the perfect cake to bring to someone's house or office to celebrate fall!  
This Pumpkin Ginger Bundt Cake has a moist texture, strong flavors of cinnamon and ginger, and a rich cream cheese glaze. It may seem strikingly similar to the Pumpkin Cream Cheese Bundt Cake, but they do have their differences. You'll just have to make both to compare them!
Ingredients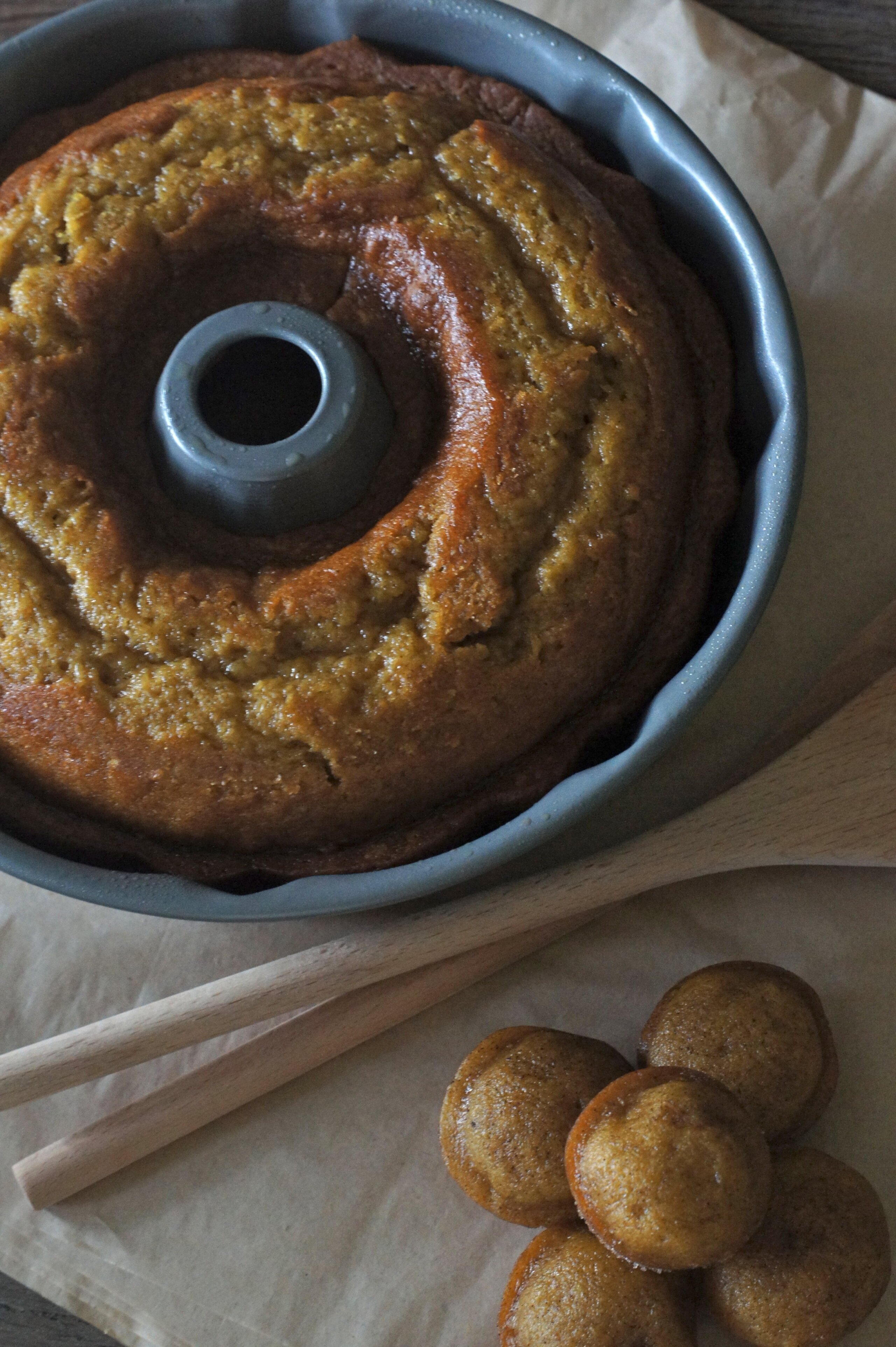 Spices- Ginger, Allspice, and Cinnamon add the fall flavor
Pumpkin- 100% pure pumpkin puree
Oil- Vegetable oil will give the cake extra moisture
Cream Cheese- The base for the rich glaze
Sugar- Granulated for the cake, powdered for the glaze
Directions
In a mixing bowl, beat sugar, oil, and eggs until smooth
Add water and mix
Add pumpkin puree and spices and mix until combined
In another bowl, whisk together flour, baking soda, baking powder and salt
Add the dry ingredients to the pumpkin mixture and combine
Fill bundt pan ¾ of the way with the batter
Bake 45-55 minutes or until a toothpick is inserted and comes out clean
Let cake cool for 10 minutes before removing it from the pan, and in the meantime, make the cream cheese glaze
Cream together the cream cheese and sugar until smooth
Add in milk until it reaches the desired consistency
Mix in spices, then drizzle over the cooled cake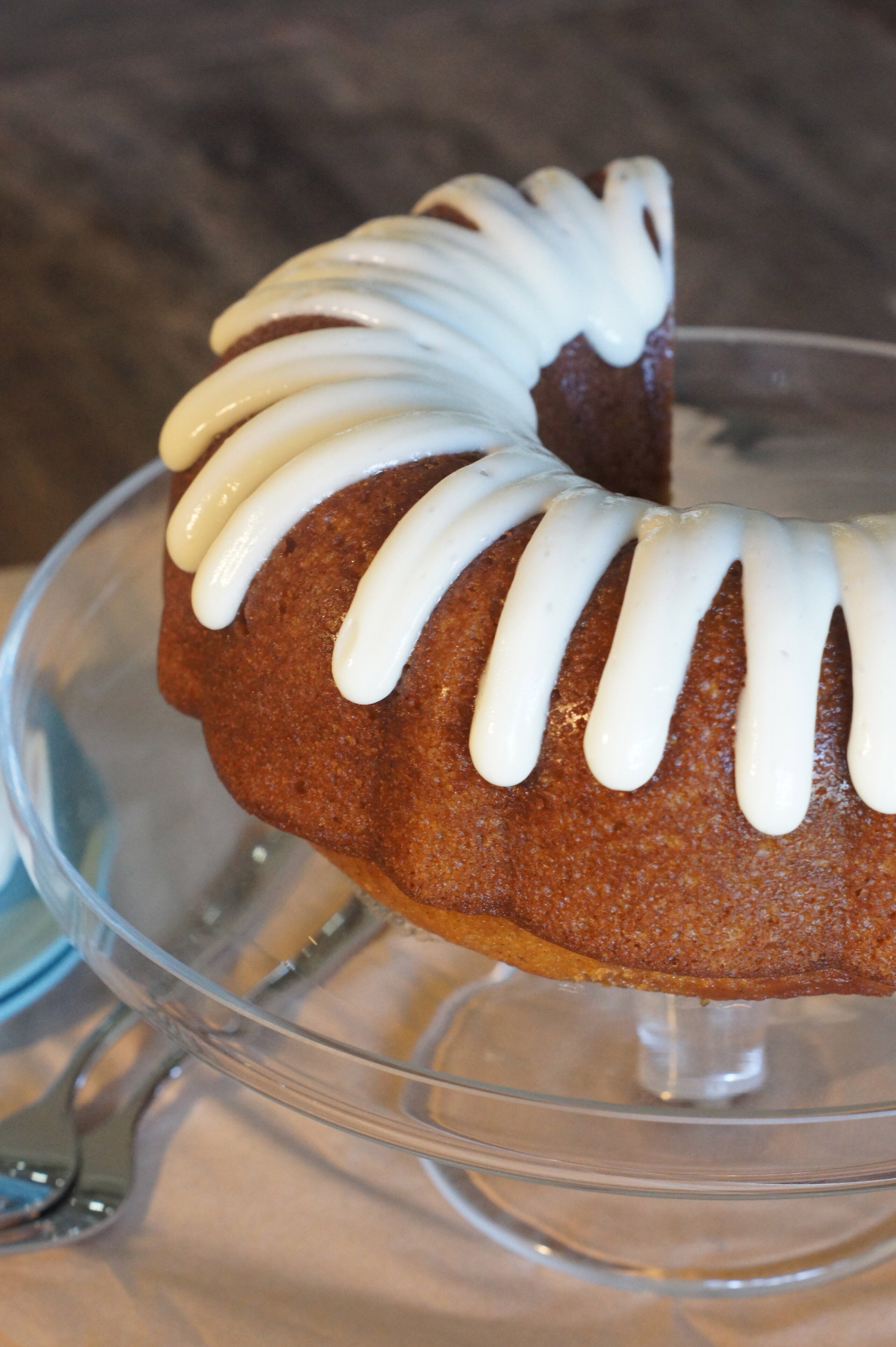 Tips and FAQs for Pumpkin Ginger Bundt Cake
If you have extra batter after filling the bundt pan, you can pour the leftover batter into a mini muffin pan and have the best mini muffins tossed in cinnamon sugar!
To ensure the cake comes out of the pan properly, butter and flour the pan well.
How do you decorate the bundt cake with the glaze?
You can simply just drizzle the glaze over the cake by waving the bowl of glaze over it, or if you want a more neat look, you can pipe the glaze onto the cake with a pastry bag.
More Cake Recipes You Will Love
Print
Pumpkin Ginger Spice Bundt
3 cups

sugar

1 cup

vegetable oil

4

eggs

⅔ cup

water

1

can (15oz) pumpkin puree

2 tsp

ground ginger

1 tsp

allspice

1 tsp

ground cinnamon

3 ½ cups

all purpose flour

2 tsp

baking soda

1 ½ tsp

salt

½ tsp

baking powder
Instructions
1. In a large mixing bowl combine sugar, oil and eggs; beat until smooth
2. Add water to egg mixture
3. Add in pumpkin puree, ginger, cinnamon and allspice
4. Combine flour, baking soda, salt and baking powder in a bowl
5. Add dry ingredients to the pumpkin mixture and mix until combined
6. Pour batter into a bundt pan ¾ full (depending on the size of your pan there might be a little batter remaining that will make the perfect mini muffins!)
7. Bake at 350 degrees F for 45-55 minutes or until toothpick comes out clean
8. Allow the cake to stick for 10 minutes before removing it from the pan
8. Once the cake is cooled, dust with powdered sugar or drizzle with cream cheese glaze (see recipe below)
9. Serve or store in an airtight container
Print
Spiced Cream Cheese Glaze
4 ounce

cream cheese

½ cup

powdered sugar

3 tbsp

milk, plus more if needed
pinch of cinnamon
pinch of ginger
Instructions
1. cream together the cream cheese and powdered sugar until all lumps are gone
2. add in milk until you have the desired texture
3. add in ground cinnamon and ginger
4. drizzle over bundt cake