Spiced shortbread cookies shaped into pumpkins, glazed and ready for fall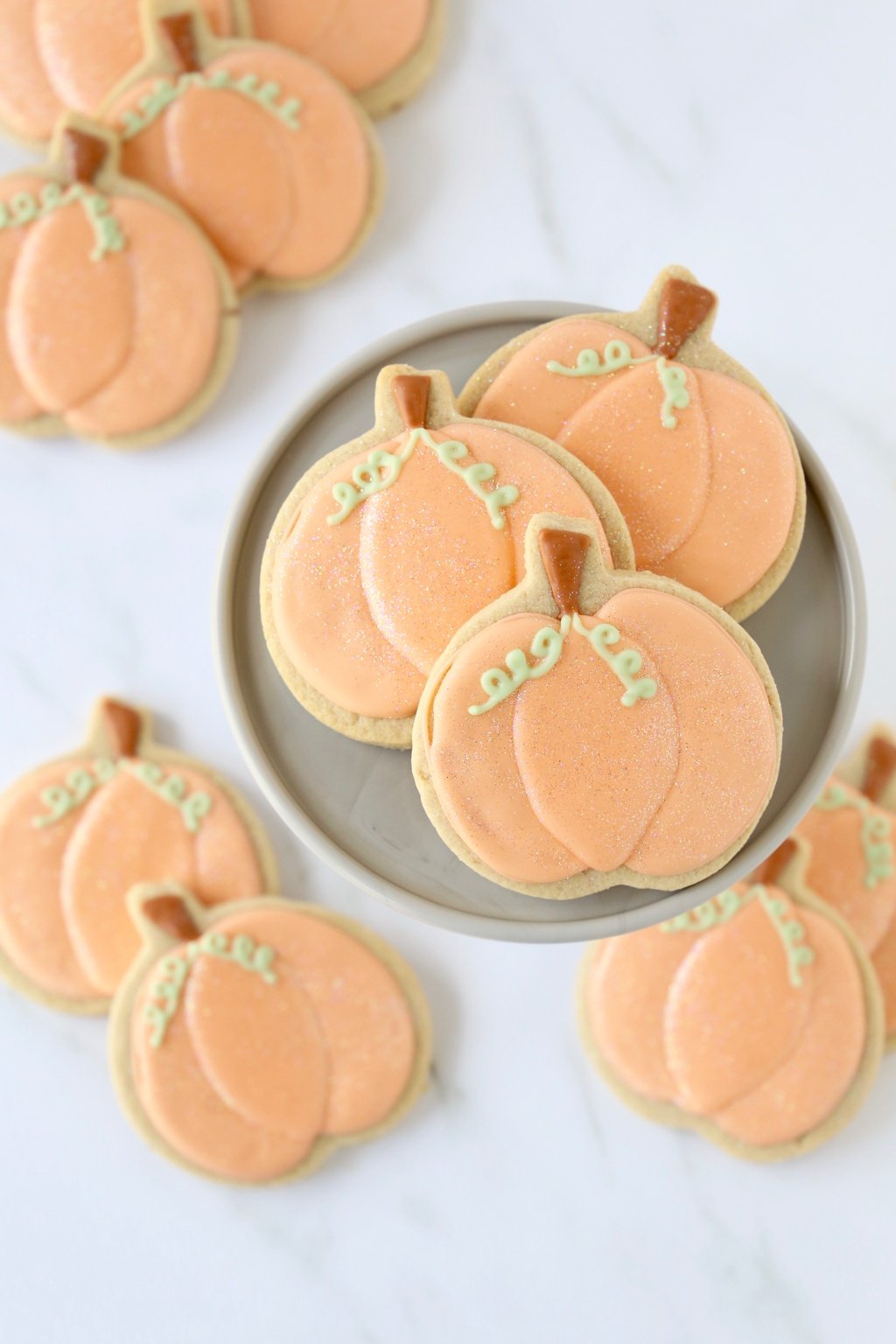 My all time favorite cookie for all seasons is decorated shortbread cookies. Whether you are wanting an elegant tables-cape or a kid friendly party favor, shortbread cookies are made for every occasion and holiday. These are the perfect cookies that will decorate your table and fill your belly with joy.
How To Make Spiced Shortbread Pumpkin Cookies
For a fun fall twist on my original shortbread cookie, light brown sugar shortbread dough, spiced with cinnamon, ginger and allspice create a perfect flavor for the season. This shortbread dough is a classic buttery dough that is easy to make and rolls out for cut out cookies. Made with light brown sugar, unsalted butter, one egg, flour, cinnamon, ginger and allspice. Once the dough is combined and rolled out, a pumpkin shape is a great way to celebrate the fall season.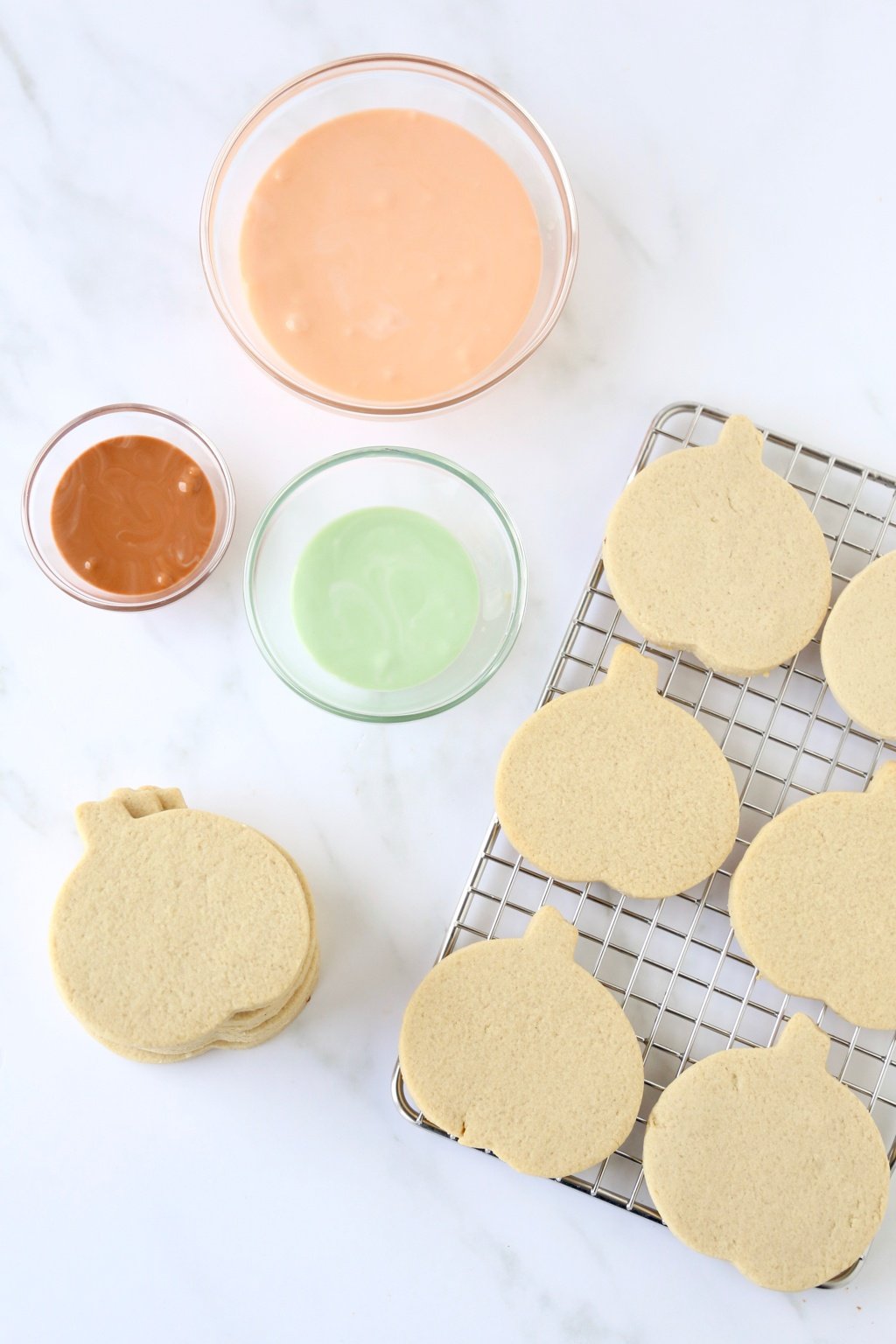 The Perfect Royal Icing Glaze
Here is where the detail comes in. Royal icing is a smooth and shiny glaze that will decorate your shortbread cookie and will taste as great as it looks. Made with just two ingredients; powdered sugar and pasteurized egg whites, the thick glaze makes it easy to pipe and decorate. Making sure the royal icing glaze is the right consistency will be the key to your success, not to thick and not to thin. Mix together the powdered sugar and egg whites until it is smooth and creamy and will be thick enough but will not hold its shape and will flatten out once it is piped or glazed. Using your choice of food coloring, you can create and decorate your cookies to your liking.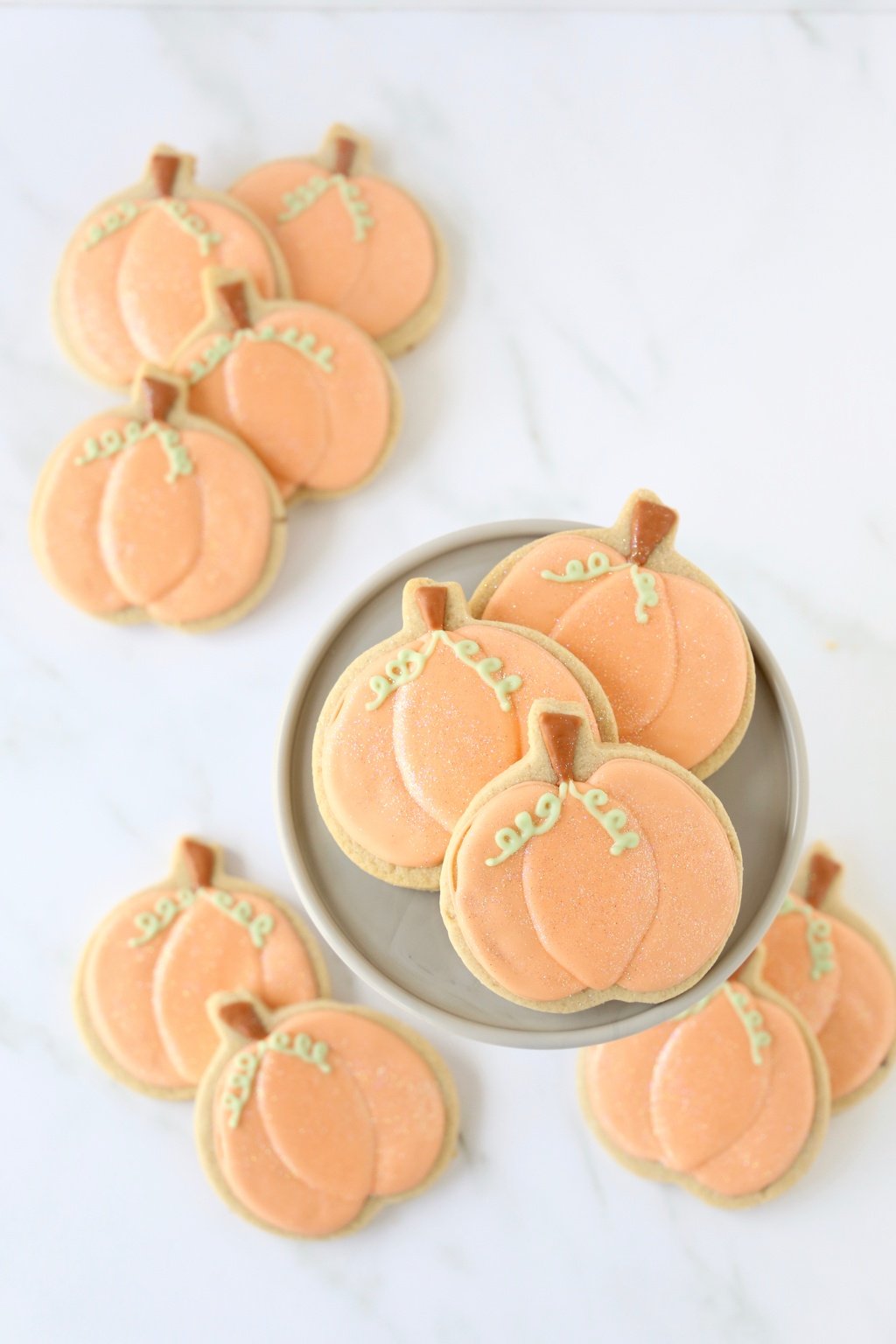 Decorate Spiced Shortbread Pumpkin Cookies
Starting with the light orange glaze, outline the perimeter of all of the pumpkin cookies and then draw two lines on the interior of the pumpkin to create the shape; let the outline dry

Using the orange glaze, fill in the two exterior portions of the pumpkin first (leaving the center empty); repeat to complete all the pumpkin cookies; allow the glaze to dry

Once the two exterior portions of the pumpkin are dry, fill in the center portion of the pumpkin and repeat to complete all the pumpkin cookies

Using the light brown glaze, outline the stem of the pumpkin and then fill in the stem; allow the pumpkin and stem to dry before moving on

Once the pumpkin has slightly dried, using the green glaze, pipe a swirl to create a green vine on the pumpkin

Allow the glazed pumpkin cookies to dry completely before serving (approximately 3-4 hour)

If you are wanting to bag or stack the cookies, allow them to dry for approximately 12 hours so that the icing does not get damaged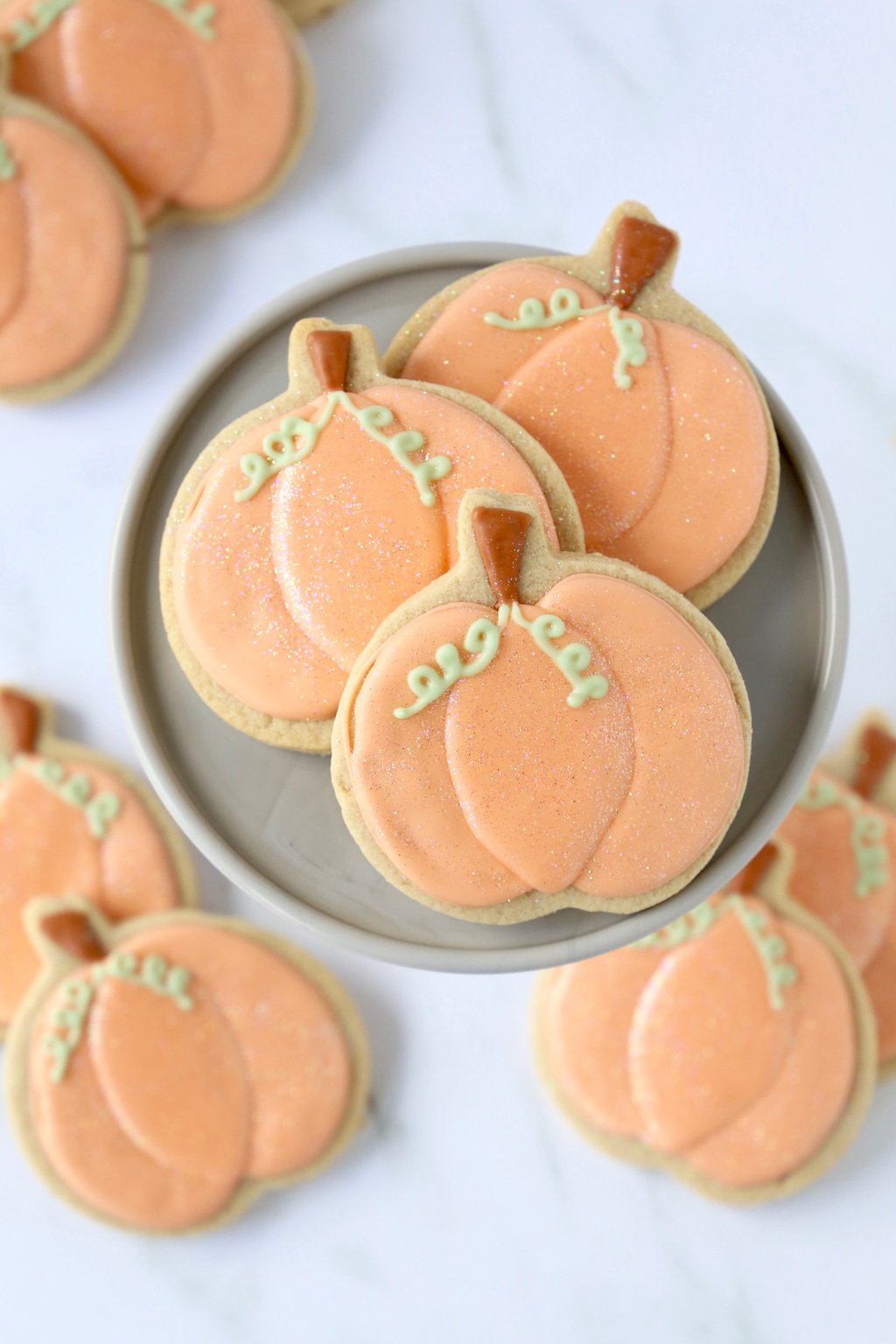 More Fall Treats You Will Love
Halloween Chocolate Shortbread Cookies
Apple Spice Bundt Cake with Rum Glaze
Halloween Snack Mix and Snack Board
Maple Bourbon Sour Cocktail
Print
Spiced Shortbread Cookies
2 ½ Cups All Purpose Flour
½ teaspoon Ground Cinnamon
¼ teaspoon Ground Ginger
⅛ teaspoon Allspice
½ Cup Light Brown Sugar
1 Cup Unsalted Butter
1 Egg 
Royal Icing
4 Cups Powdered Sugar, sifted
½ Cup Pasteurized Egg Whites (add more or less depending on consistency) 
Instructions
Spiced Shortbread Cookies 
Preheat oven to 350 degrees F and prepare 2 sheet pans with parchment paper

In a medium bowl, combine the  flour, cinnamon, ginger and allspice; set aside  

In a mixing bowl with paddle attachment, cream together the light brown sugar and butter until light and fluffy, scraping down the sides of the bowl to be sure all ingredients are incorporated 

Add the egg to the butter mixture and mix until fully combined 

Slowly add the dry ingredients into the butter mixture and mix until the dough comes together; do not overmix

Remove the dough from the bowl and lightly knead together on a floured surface to create a ball 

Wrap the ball of dough in plastic wrap and refrigerate for 10 minutes 

Remove the dough from the refrigerator and place on a lightly floured surface 

Roll the dough out to ¼ inch thick and cut the dough using a three inch pumpkin shaped cookie cutter 

Place the cookies on a prepared sheet pan leaving about two inches in between each cookie (they don't spread a lot)

Bake the cookies for 12 minutes or until the edges have a very light golden color 

Remove the cookies from the oven and allow them to cool completely while you prepare the royal icing 
Royal Icing Glaze 
In a mixing bowl with paddle attachment, combine the powdered sugar and egg whites 

Mix on medium to high speed until the glaze become smooth and shiny; the glaze with be thick but fall flat once settles 

Divide the glaze into ¾ pale orange glaze, ⅛ light brown glaze and ⅛ light green glaze and fill one pastry bag with each color  
Ice & Decorate Cookies 
Starting with the light orange glaze, outline the perimeter of all of the pumpkin cookies and then draw two lines on the interior of the pumpkin to create the shape; let the outline dry

Using the orange glaze, fill in the two exterior portions of the pumpkin first (leaving the center empty); repeat to complete all the pumpkin cookies; allow the glaze to dry

Once the two exterior portions of the pumpkin are dry, fill in the center portion of the pumpkin and repeat to complete all the pumpkin cookies

Using the light brown glaze, outline the stem of the pumpkin and then fill in the stem; allow the pumpkin and stem to dry before moving on

Once the pumpkin has slightly dried, using the green glaze, pipe a swirl to create a green vine on the pumpkin

Allow the glazed pumpkin cookies to dry completely before serving (approximately 3-4 hour) 

If you are wanting to bag or stack the cookies, allow them to dry for approximately 12 hours so that the icing does not get damaged