Celebrate Valentine's Day with your kids and the perfect Valentine's Day Snack Board filled with lots of love, salty sweet and everything pink and red!
As our kids are getting older they are excited to celebrate every holiday with us, big and small. It is reason to have a special meal together, make things a little fancier than normal and really just celebrate. Although Valentine's Day is a few weeks away, I have already transitioned my paper plates and napkins to red and pink hearts, our waffles are heart shaped and our afternoon snacks are a variety of salty and sweet treats, all pinks and reds, to welcome them home after a long day of school.
This Kid Friendly Valentine's Day Snack Board is a fun way to enjoy a snack together around the table and it will hold them over until dinner because my three are always so hungry the moment they step into our home.
As you are planning your Valentines Day celebrations, you might also love our Valentine's Day Brunch at Home.
Kid Friendly Red and Pink Snack Board

There are so many Valentine's Day treats to choose from, but my goal was to keep this one a small snacking board with a variety of salty and sweet options. Adding in some healthy options with a few chocolate, candies or cookies will allow them to feel satisfied and also know they enjoyed a special treat. On most days after school I would remove some of the candy and add in more savory items but for Valentine's Day it is ok to spoil them with a few of their favorite things.
Ingredients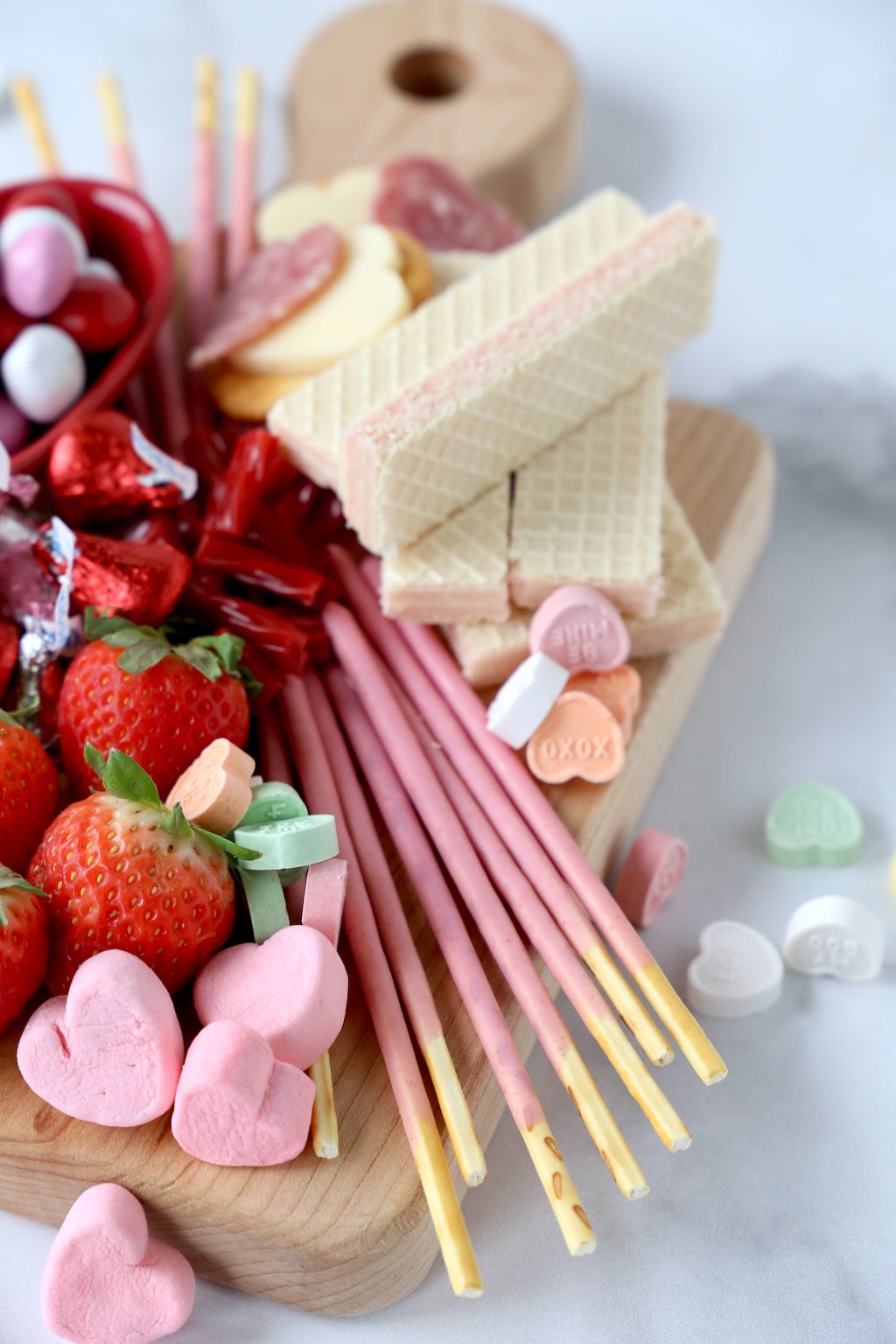 Salami, Cheese and Crackers-make these extra special by cutting the cheese and salami into a heart shape using a cookie cutter
Peanut Butter & Jelly- a great after school snack is PBJ, but cut them into small heart shapes for the perfect bite
X's & O's Pretzels-Any pretzel will do, but we love these X and O shaped pretzels. These come in small bags that can be gifted for classroom treats as well
Strawberries- Plain or dipped in chocolate, strawberries are the perfect fresh and flavorful addition to any board
Marshmallows- finding some heart shaped or pink marshmallows will be a favorite for the kids
Hershey Kisses- A classic Valentine's Day treat must be added to your board and these can be enjoyed or saved for later
Strawberry Wafers- these have become a household favorite; light, crunchy, and perfectly pink
Strawberry Pocky Sticks- who can resist these crunchy sticks dipped in strawberry chocolate or dark chocolate
Conversation Heart Sweet Tarts- the quintessential Valentine's candy but in sweet tart form, maybe the best thing ever
M&M's- perfect to add to any bowl or use as a filler, M&M's come in so many fun flavors to the holiday
Step-by-Step Directions
Start with a small wood board, tray or plate
Gather all your items and have the on the counter so you can see everything that is being arranged on the board
Place a small bowl to start as the anchor for the board
Cut the salami and cheese into heart shapes and layer with crackers; place on the board in one section
Make and cut the PBJ hearts and place on the board in one section
Arrange all the other big items on the board (strawberries, pretzels, pocky sticks and strawberry wafers)
Once all the larger items are placed, start to fill in with the smaller items (conversation hearts, hershey kisses and marshmallows)
Fill the bowl with M&M's
Enjoy!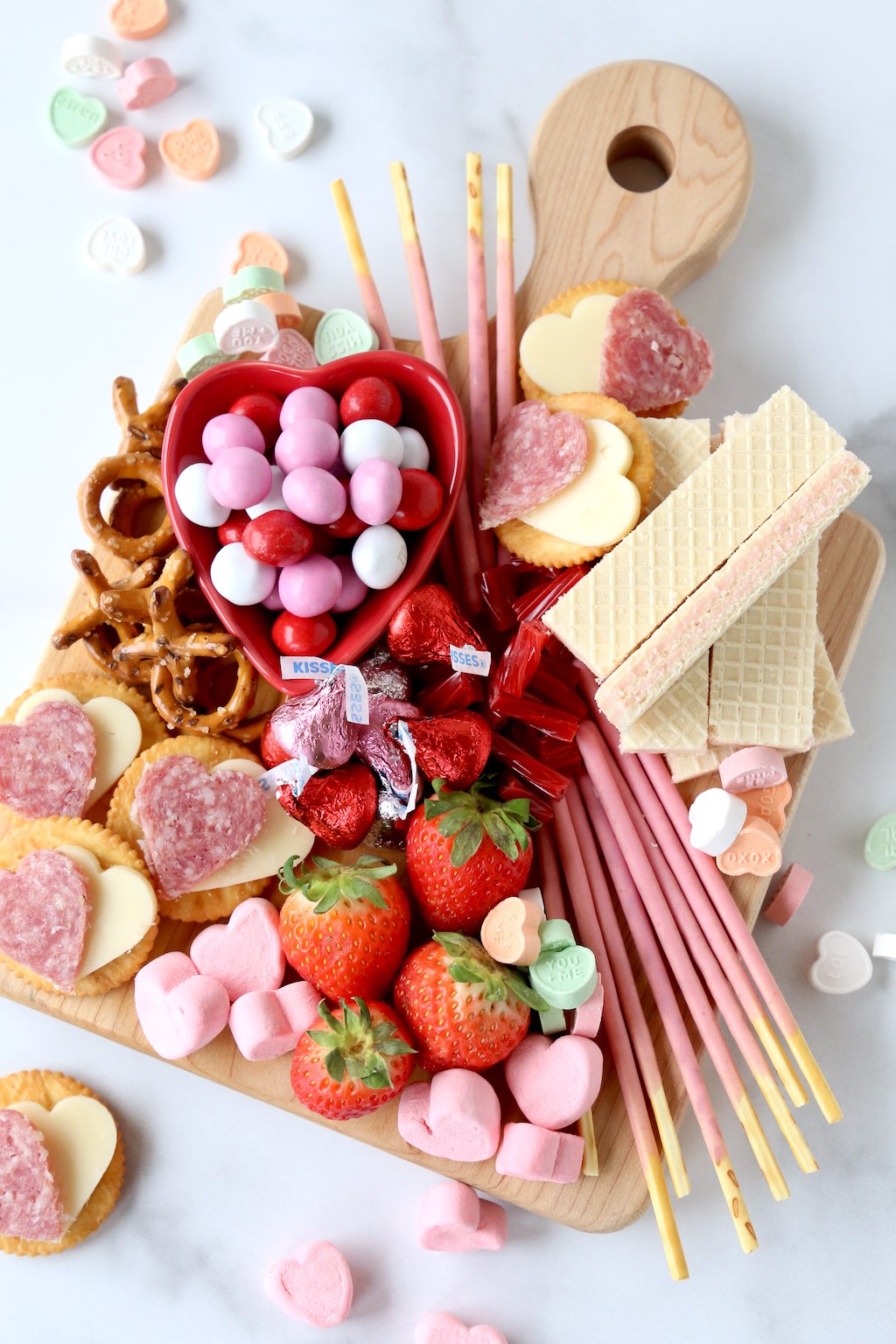 Valentine's Day Kids Snack Board
Celebrate Valentine's Day with your kids and the perfect Valentine's Day Snack Board filled with lots of love, salty sweet and everything pink and red!  
Print
Pin
Rate
Ingredients
Salami

Provolone Cheese

Cut into hearts

Crackers

Peanut Butter and Jelly Sandwiches

cut into hearts

Pretzels

Strawberries

Marshmallows

Hershey Kisses

Strawberry Wafers

Strawberry Pokey Sticks

Conversation Sweet Tarts

Valentines M&M's
Instructions
Place all the ingredients on a board! Serve and enjoy!
Nutrition