Loaded with vitamins and bursting with flavor and happy colors, citrus is a shining light during cold, gloomy winters and a Winter Citrus Galette is the best way to get all the flavors into one.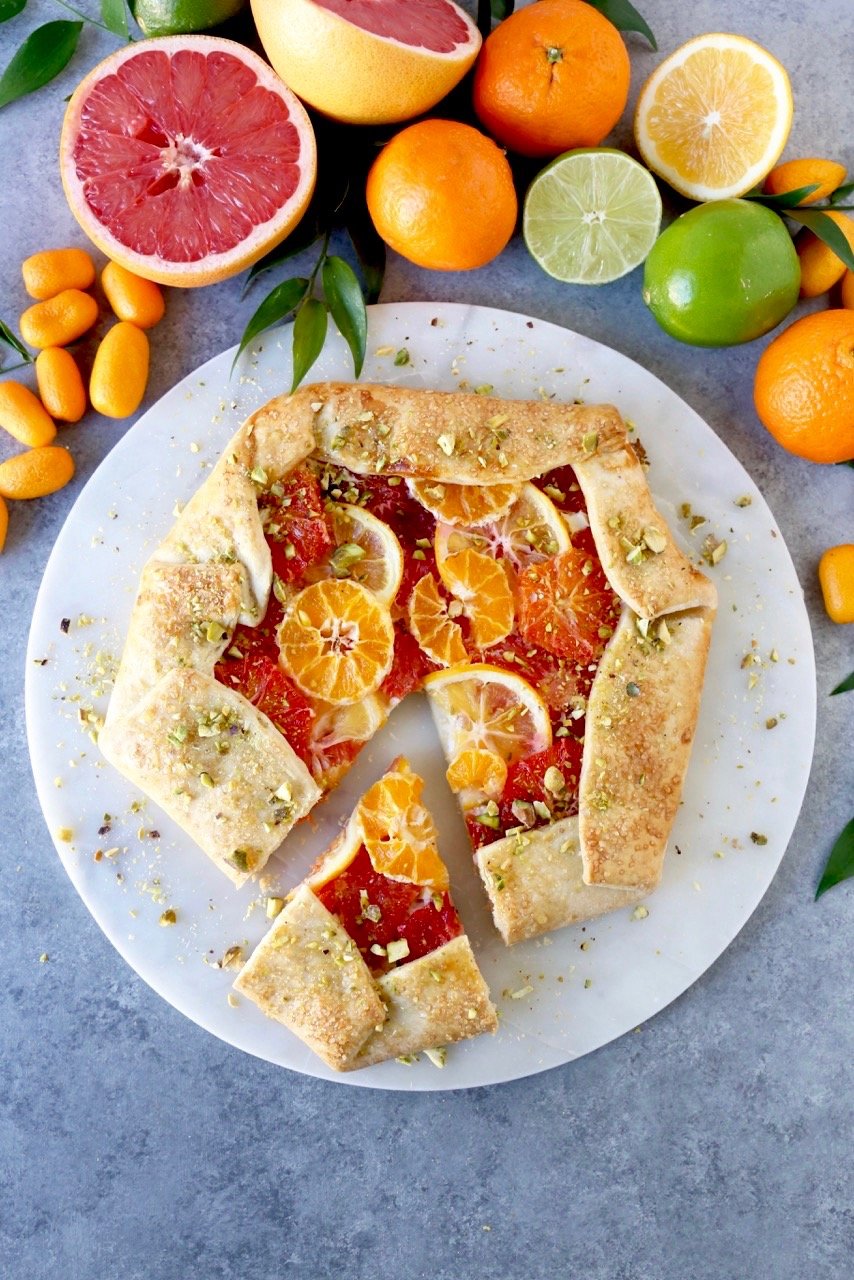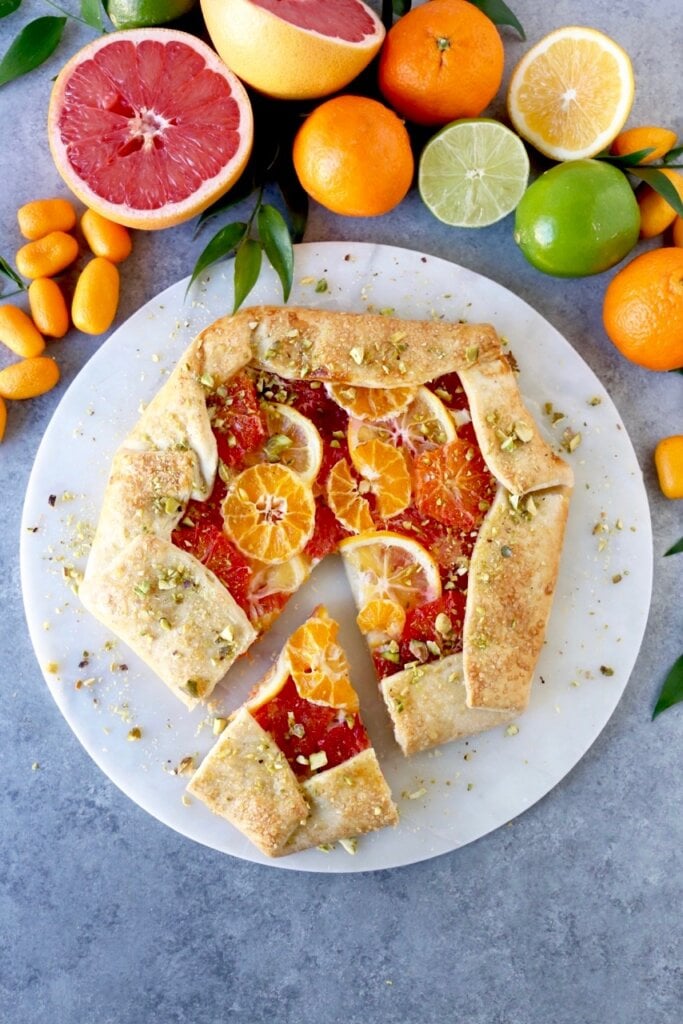 A winter citrus galette is a great way to include all of your favorite winter citrus in one place. I love the idea of a galette vs. a tart or pie because there is no pressure for perfection. This a rustic, free-form pie shell that allows you to focus on the flavor and not the look. Oranges, Meyer lemons and grapefruit all tucked into a flaky pie crust and layered with a ricotta filling will bring out the bright flavors of these fruits. Finish this galette off with raw sugar to add sweetness and crushed pistachios for nutty crunch.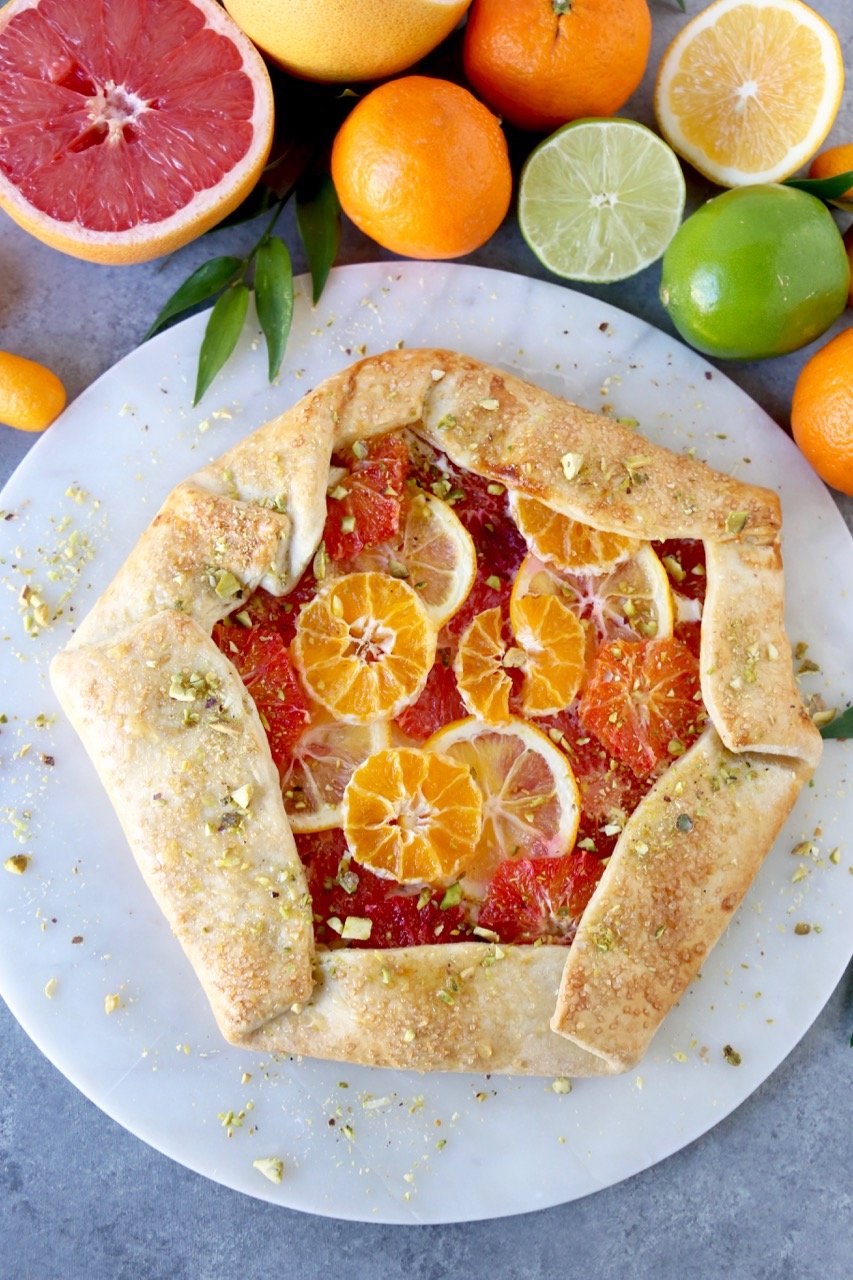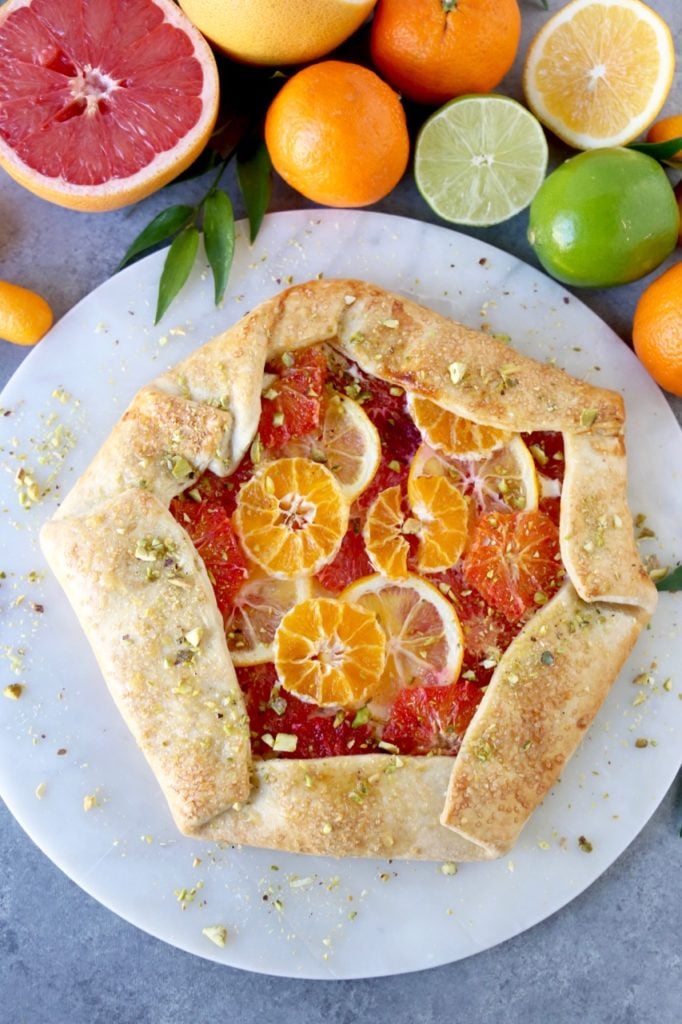 Oranges
The Cara cara orange is one of my favorites, loaded with a sweet flavor and less acid. The Cara cara orange is a type of navel orange that has a darker orange and pink skin and can be juiced, enjoyed in segments, or served in a salad or for dessert. The blood orange is another unusual and harder to find variety, typically found from December through March. Blood oranges have a strong flavor and add beautiful color.
Meyer lemons
These are slightly less acidic and tangy but can be a substituted for regular lemon in any recipe. Meyer lemons are native to China and are a cross between a regular lemon and mandarin oranges. They are smaller, rounder, have a darker, edible flesh and a high volume of juice.
Grapefruit
Although grapefruit is one of my favorite fruits to eat on its own, it's versatile in the kitchen and has a tangy, sweet flavor. I love grapefruit juiced for a cocktail or mocktail, segmented and tossed into a salad, sliced over fresh fish, or baked into a dessert.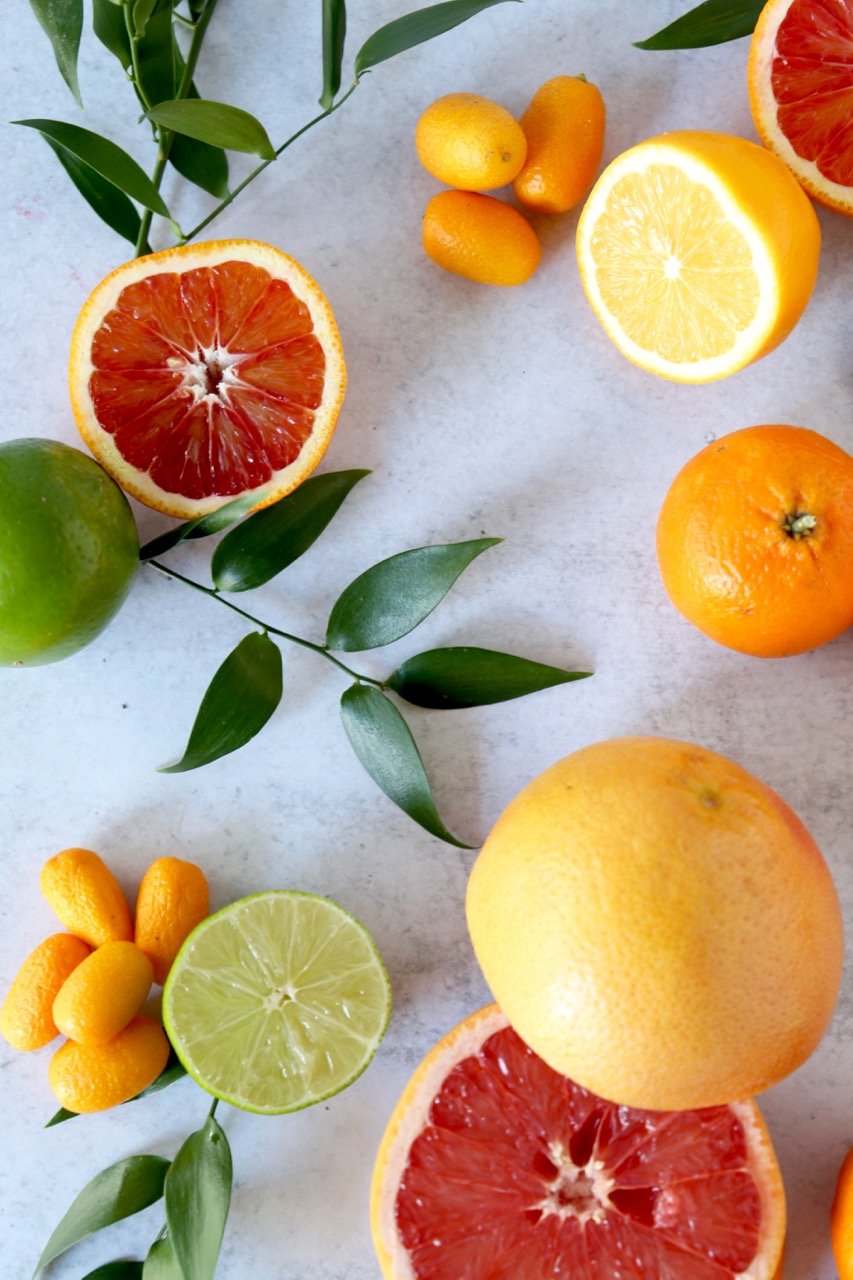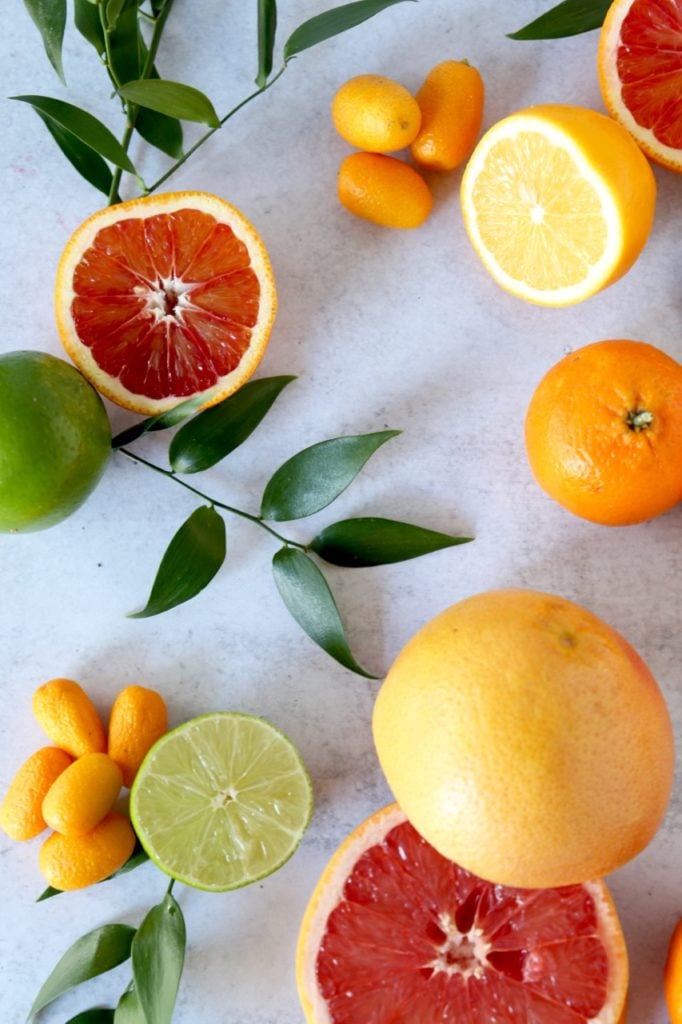 Print
Winter Citrus Galette
Loaded with vitamins and bursting with flavor and happy colors, citrus is a shining light during cold, gloomy winters and a Winter Citrus Galette is the best way to get all the flavors into one. 
Pie Dough:

1 ½ Cup

All Purpose Flour

1 Tbsp

Granulated Sugar

½ tsp

Salt

8 Tbsp

Unsalted Butter, chilled and cubed

5

-

6

Tbsp Ice Cold Water
Ricotta Filling:

1 Cup

Ricotta Cheese

1

Egg

1 Tbsp

Honey
Citrus Galette Assembly:
Assorted Winter Citrus Fruit, such as mandarin orange, grapefruit and
blood orange

1

Egg (for egg wash)

1 tsp

water 
2 Tbsp Turbinado Sugar
Garnish:

1 Tbsp

Honey

3 Tbsp

Pistachios, chopped
Instructions
Dough:
Place the flour, sugar and salt into the bowl of a food processor and pulse to combine
Slowly add in the chilled and cubed butter to the flour mixture and pulse until it looks like course meal
Continue pulsing and add the ice cold water, one tablespoon at a time until the dough comes together into a ball
Remove the dough from the food processor and press together but do not over knead
Wrap the dough in plastic wrap and refrigerate for 1-2 hours or overnight
Once you are ready to bake, preheat the oven to 350 degrees F
Ricotta Filling;
In a small bowl whisk together the ricotta cheese, egg and honey until smooth
Refrigerate until ready to use
Citrus:
Very gently cut the peel off from the flesh of the citrus and slice each one into thin rounds
Set aside until ready to use
Assembly:
Preheat the oven to 350 degrees F and prepare a sheet pan with parchment paper
Once the dough is chilled, bring the dough back to room temperature and roll out the dough into a 12" round disc
Spread a thin layer of Ricotta Filling to cover the dough but leaving a 3" perimeter to save room for folding the edges over
Gently layer the citrus fruit over the ricotta filling
Once the fruit is on the galette, fold the edge over in a rustic form
In a small bowl, whisk the egg and water together to. Brush the egg wash onto the dough and sprinkle the entire galette with turbinado sugar to add a sweetness to the tart citrus and a crunch!
Place the galette on the sheet pan and bake at 350 degrees F for 35-45 minutes or until the dough has become a light golden color
Allow the galette to cool for 5 minutes, drizzle the honey all over the citrus galette and sprinkle with chopped pistachios.
Serve and Enjoy!