Celebrating Halloween in a new way means being creative and starting new traditions for your family.  There are so many great ways to still make halloween feel special and a way to keep your kids feeling spooky and sweet.  Halloween Snack Mix and Halloween Snack Board are simple and sweet treats to munch on throughout the night.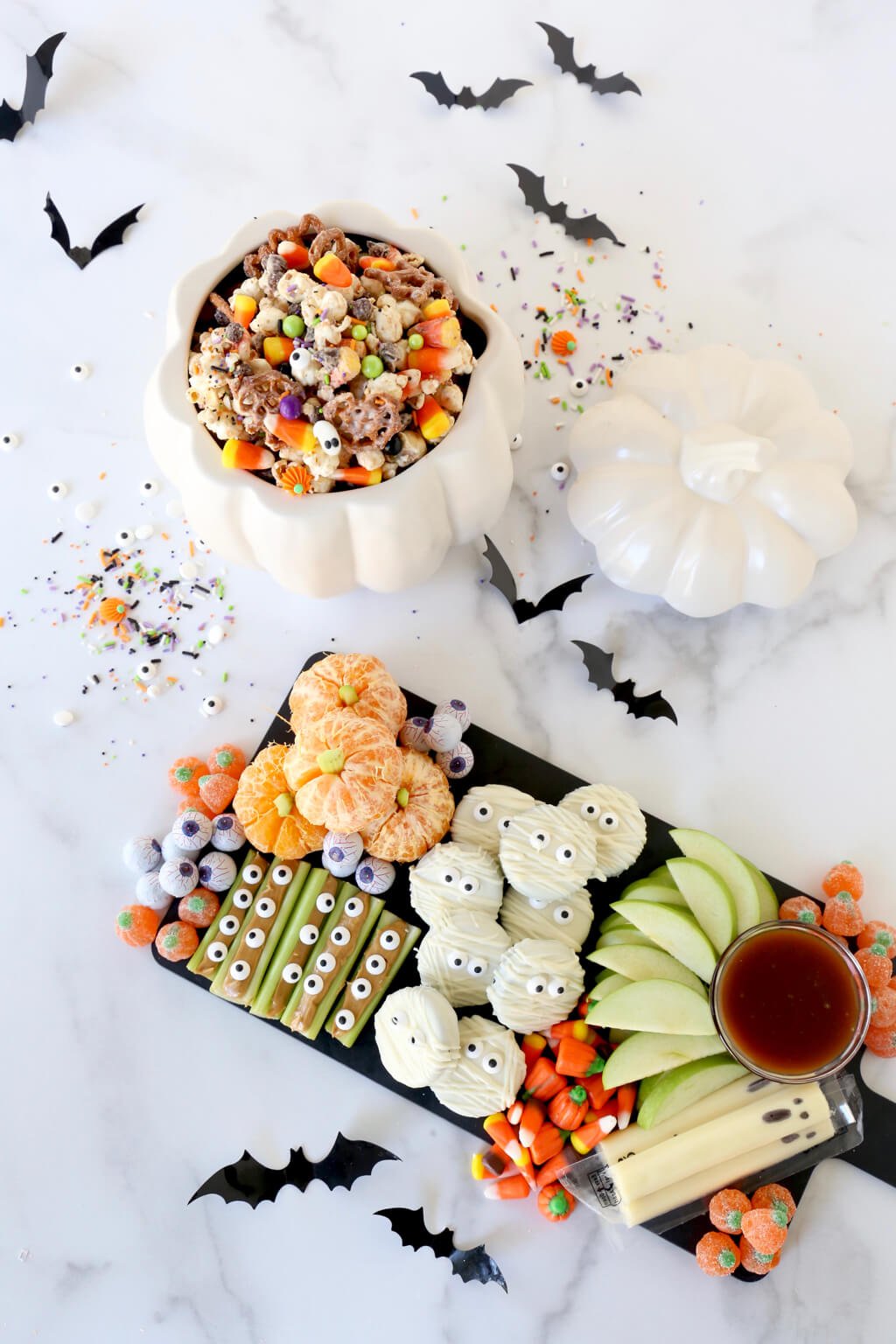 While the full tradition of Halloween might not be something that you are exploring this year, alternative Halloween activities won't make you feel like you are missing out on anything at all.  Taking decorating to another level and bringing the Halloween spirit into your home this year will really help create a festive environment.  Once the decorating is done, a simple yet super fun Halloween Snack Mix and Halloween Snack Board that the whole family can munch on throughout the night.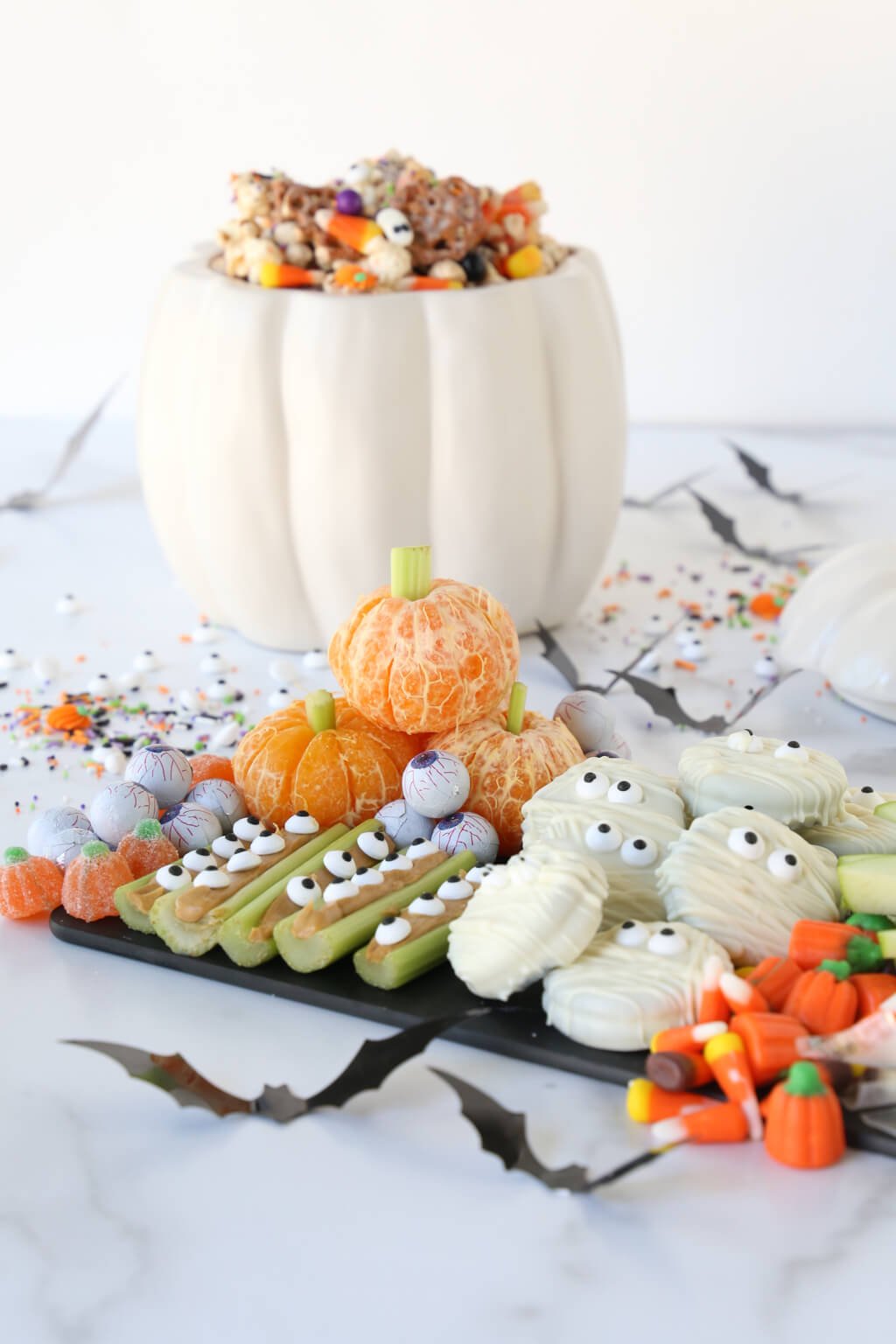 Halloween Snack Mix
Halloween Snack Mix is a recipe that can be altered to your liking but is made with popcorn, pretzels, cocoa puff cereal, candy corn and coated with white chocolate and halloween sprinkles.  This snack mix is not only super festive and fun but will be hard to stop eating. (Recipe Below)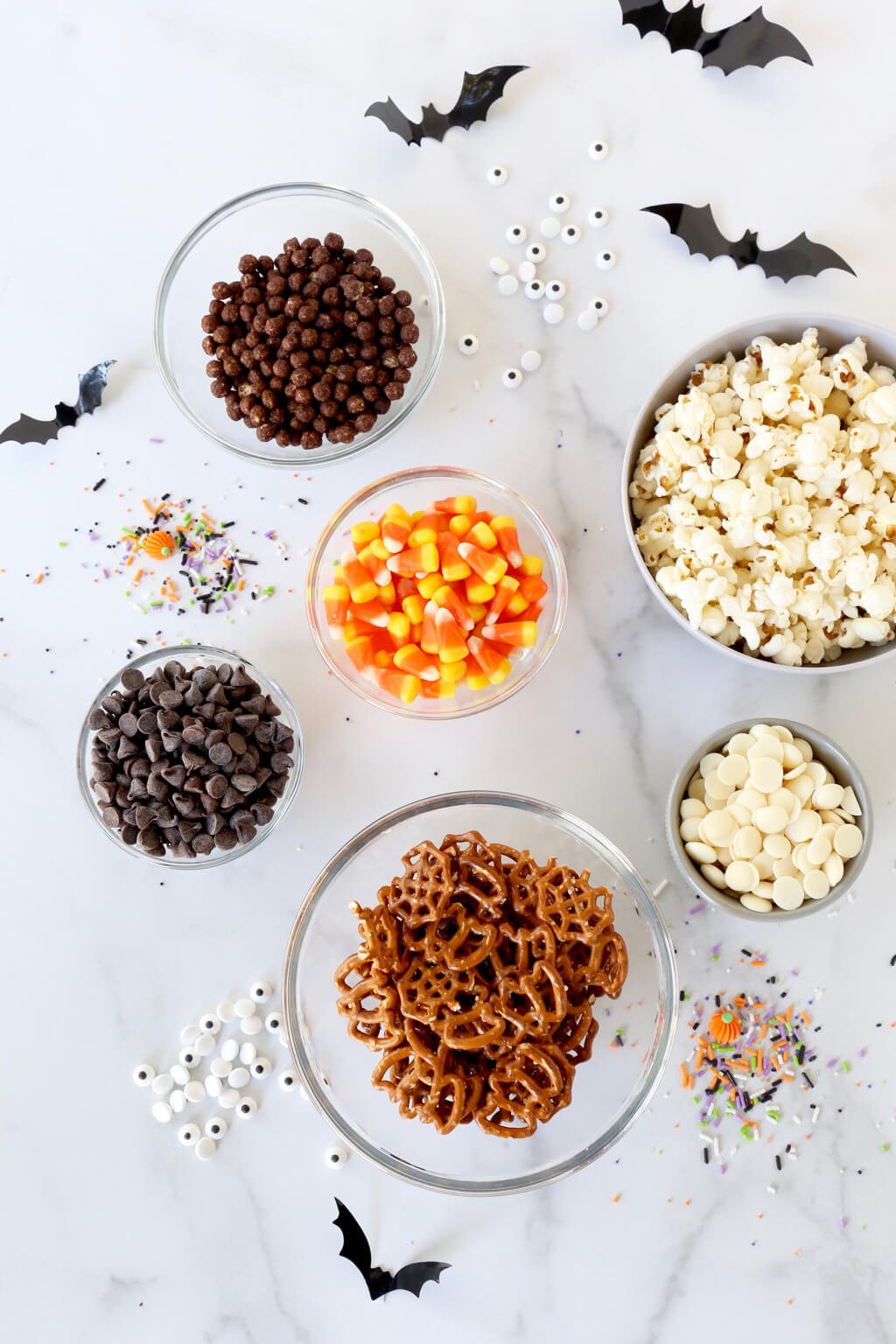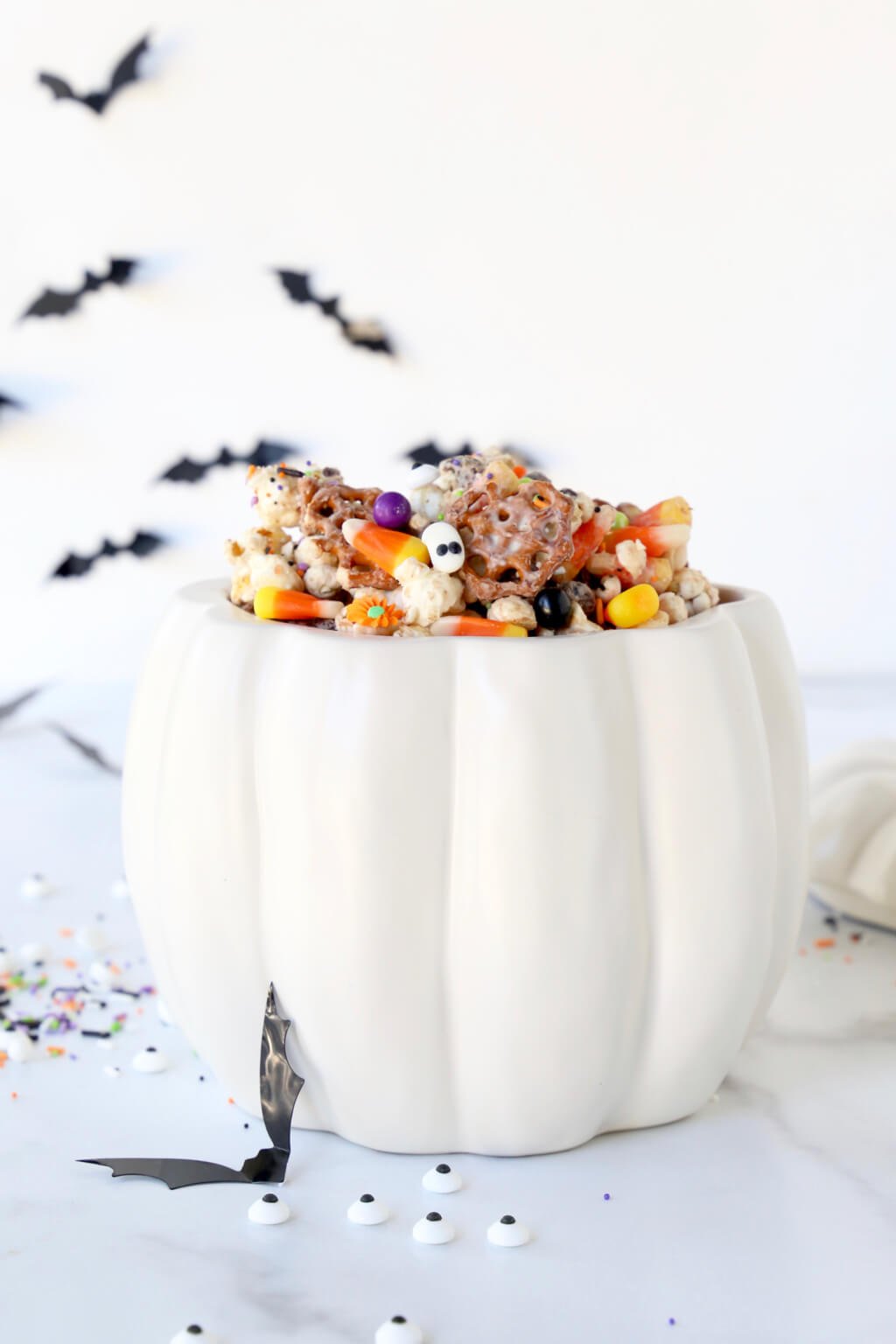 How To Curate A Halloween Snack Board
Curating a Halloween Snack Board with fruits, veggies, halloween candies, chocolate dipped oreos and caramel sauce gives a variety that your whole family is sure to love.  This is a super simple way to feed just your family or feed a crowd and you are guaranteed to have something that everyone will enjoy.  
Pumpkin Oranges-manderin oranges, peeled with a celery stem

Celery Monster  Sticks- celery sticks filled with peanut butter and decorated with candy eyeballs 

Chocolate Dipped Mummy Oreos- classic oreos, dipped in white chocolate and decorated to look like mummys 
Homemade or Store bought Caramel Sauce and Apples for dipping 

Cheese Stick Ghosts 

Assorted Halloween Candy
Non Traditional Halloween Activities To Do With Your Family
Halloween Movie Night- Pick a family friendly halloween movie, make Halloween Snack Mix and get cozy 

Halloween Bingo-Download a Halloween Bingo Board, use candy corn for the game pieces and enjoy and fun night around the table with games and snacks 

Halloween Candy Hunt-create a similar set up to an Easter Egg Hunt but hiding the Halloween Candy for your kids.  This is a great activity that will give a similar feel to trick or treating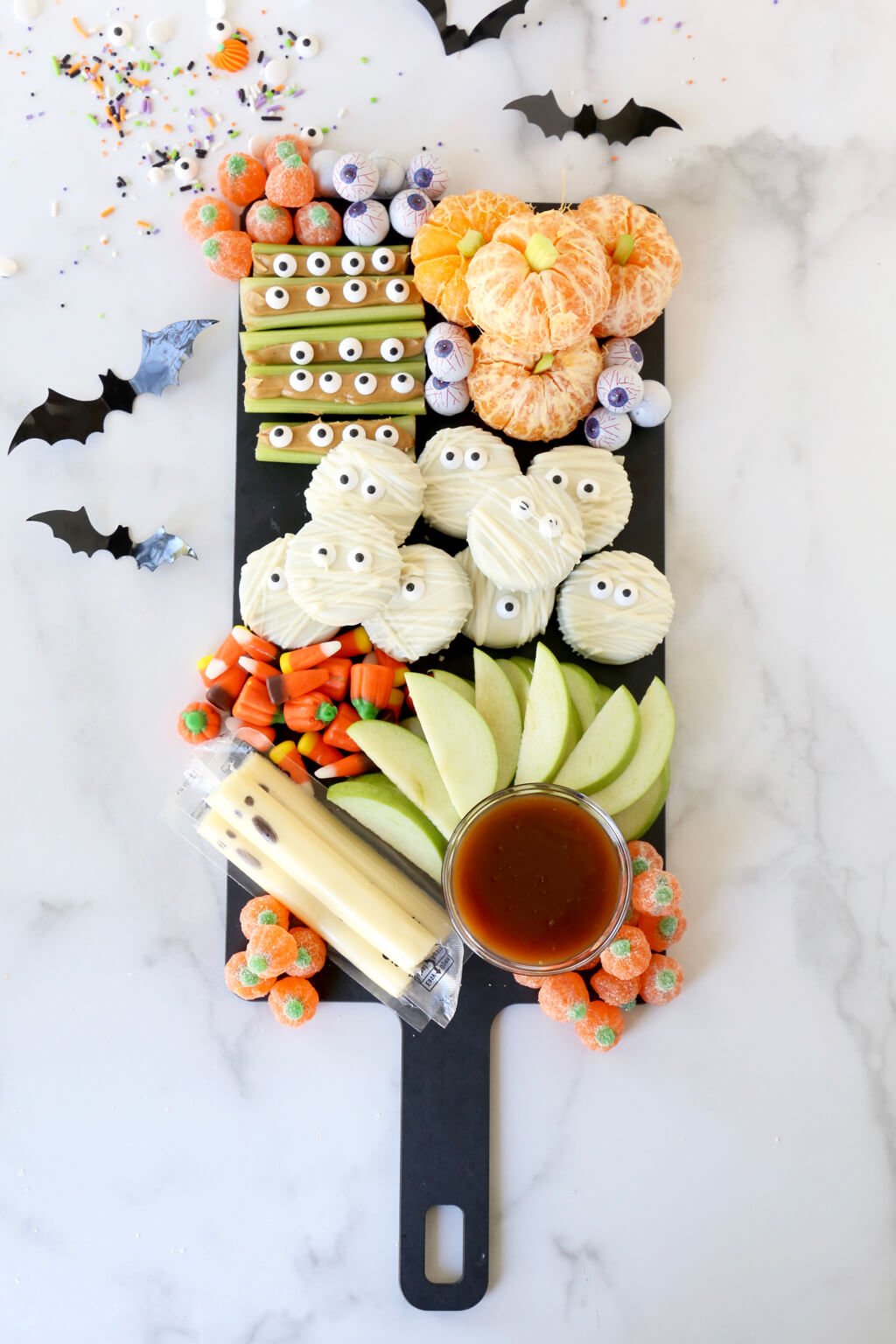 More Halloween Recipes You Will Love
Hocus Pocus Punch
Halloween Chocolate Shortbread Ghost Cookies 
Halloween Vanilla Funfetti Cake
Triple Chocolate Cocoa Puff Treats 
Print
Halloween Snack Mix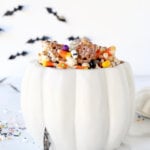 5 Cups Popcorn, popped
2 Cups Pretzels
1 Cup Cocoa Puff Cereal
1 Cup Candy Corn
1 Cup White Chocolate Chips
1 Tablespoon Coconut Oil
Halloween Sprinkles
Eyeball Sprinkles 
Instructions
In a large bowl, mix together the popcorn, pretzels, cocoa puff cereal and candy corn; set aside 

In a small microwave safe bowl, melt the white chocolate chips and coconut oil stirring every thirty seconds until fully melted 

Pour the white chocolate over the popcorn mixture and gently mix until the popcorn mixture is fully coated 

Spread the mixture onto a parchment lined baking sheet and add sprinkles and eyeballs while the white chocolate is still wet 

Allow the white chocolate to dry completely before scooping into a serving bowl or packaging 

Store in an airtight container for 2-3 days for the freshest snack mix